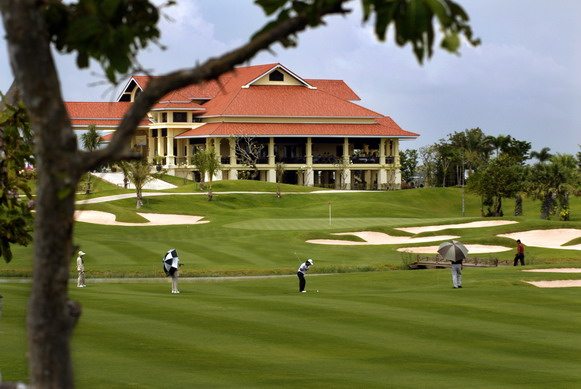 Golf in Cambodia can easily be combined with golf in Thailand and now more than ever golfers from around the world are discovering this new golf destination.
The fabulous Buddhist temples of Siem Reap, Cambodia date back nearly 1,000 years and are one of the true wonders of the world.  When constructed Cambodia was home of one the world's great civilizations.  Angkor Wat is by far the largest and most famous of the temples, though there are numerous others and each is unique, with its own themes and stone carvings depicting the story of the Buddha and of ancient Cambodia.
And now golf travelers have a great reason to go there too, as Siem Reap has become home to two first class golf courses within the last three years.
Phokeethra Country Club, Cambodia's first international standard course, opened in 2006.  It is affiliated with and under common management of the 5.5 star Sofitel Royal Angkor Golf Resort, which gives you an indication of what to expect.
The first fun aspect of playing Phokeethra is getting there.  The course is located about 25 minutes west of Siem Reap on the road to Bangkok. On the way you'll pass through a village and market providing a glimpse of local life quite different from what you'll see amongst the countless modern international hotels of Siem Reap.  Then just about the time you think you're lost in a sea of rice paddies, up pops the green and über luxurious Phokeethra Country Club.
Upon reaching the course you'll receive a warm greeting from the staff, provided a welcome drink and shown to the locker room while your caddie loads your clubs to the cart (riding cart rental is compulsory at Phokeethra though walking is an option for the same price).
The course itself is an attractive and fun layout with good variety and numerous water hazards.  On many shots you're presented with risk/reward decisions that require careful judgment.  While there are often generous bail-out areas away from trouble, they are often not readily apparent and thus referring to the well marked yardage books is highly recommended (your caddie will have the book and help you navigate your way around).
Four sets of tees are offered and allow golfers of differing levels of ability to choose just the amount of challenge appropriate for their game.
Phokeethra Country Club is the home of the Asian Tour's Johnnie Walker Cambodian Open, which was the country's first ever professional tour event in December 2007 and returns for a repeat engagement today.  American Bryan Saltus won the inaugural event and promptly dedicated his win to the Grateful Dead rock group – which in Siem Reap, Cambodia somehow doesn't seem so weird as it sounds elsewhere.
This post has already been read 11 times!