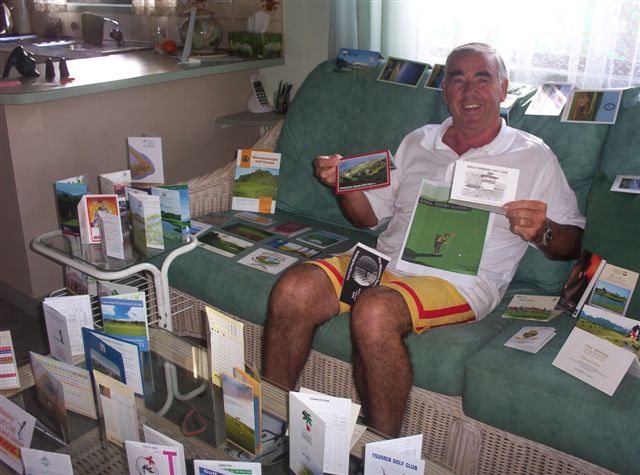 What do you do back home in the cold winter weather either before or after your Thailand golf holiday?
Well how about sifting through all your golf memorabilia collected from past golf vacations?
Here is a letter from a fellow reader of the Thailand Golf Zone that you might find interesting, and just maybe you can help Bob out.
Hi Mark,
I always get a lot of pleasure from reading your interesting articles on your Golfasian website, and I thought that just maybe some of your readers of Golfasian might be interested in my quest.
My name is Bob Davies and I am Scottish but now live on the east coast of Australia and I am a collector of golf club scorecards from around the world.  I am trying to be the first person in the world to obtain a golf club scorecard from every country & island that plays golf, and at this point in time I have golf club scorecards from 226 different countries & islands, including some remote places like Antarctica, Ascension Island, Diego Garcia, Tristan Da Cunha, and Afghanistan to name a few. (ed. I did not even know there were golf course in most of these places.)
At the moment I am concentrating on golf club scorecards from Asia and I have scorecards from China, Taiwan, Hong Kong, Singapore, Malaysia, Indonesia, Thailand, Laos, Cambodia, Brunei, Vietnam, Myanmar, Philippines, Japan, Bhutan, Nepal, and South Korea.
It has been a very rewarding experience collecting these countries' scorecards and I have made many friends along the way, However, I have had no luck in trying to obtain the golf club scorecards from the Pyongyang Golf Club in North Korea (ed. sounds very cold!) and the Orient Golf Club in Macau (ed. sounds nicer!).
I was wondering if any of your kind readers of Golfasian just might be interested enough to maybe help me in my quest.
If anyone has a golf card from either of these clubs could you ask them to send it to me at:
Bob Davies
P.O.Box  584
Woolgoolga, N.S.W. 2456 Australia
Merry Christmas & Happy New Year,
Bob     justus69@bigpond.com.au
PS I have enclosed a photo of myself with a few on my prized scorecards
This post has already been read 10 times!