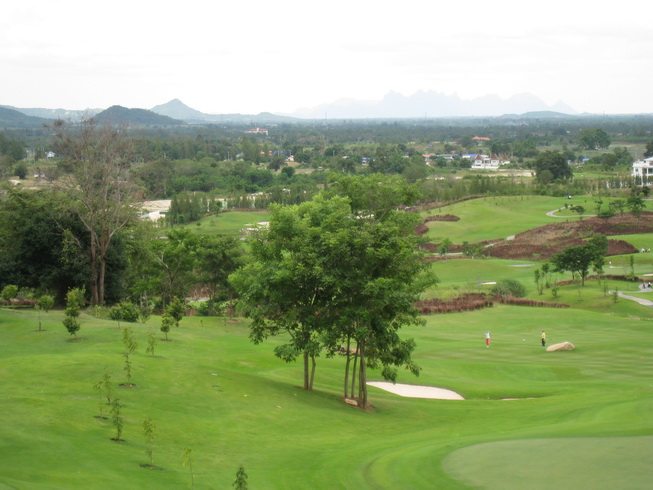 Hua Hin is the winner here, with Phuket's north and west coasts posting an honorable challenge.  Until recently the golf in Hua Hin was mostly 'so-so' quality, though that has changed with some of newer venues which are up to world class standards. Banyan Golf Club won the "2009 Best New Golf Course in Asia" award, while Black Mountain Golf Club, only 2 years old, was voted as the second best Thailand golf course, just behind Thai Country Club. Both courses are located in the foothills above Hua Hin, which make for spectacular après golf views from the clubhouses overlooking vast and fertile valleys below.
The old favorites like the Nicklaus designed Springfield Royal Country Club and Palm Hills Golf Club along with the newer Hua Hin golf courses mentioned are all only around 15 minutes from town, which makes golf in Hua Hin also the most convenient in Thailand.
Mature couples in particular are drawn to Hua Hin specifically because of the 'quieter and gentler' nightlife here, and it continues popular as a weekend retreat for Bangkok residents as well. The "downtown" area is populated by boutiques, shops, and quaint restaurants and in comparison with the other Thailand golf destinations like Pattaya and Patong Beach on Phuket, practically free of beer bars and discotheques.
The Hua Hin golf area is located 2 hours from Bangkok by road or 2.5 hours from the new Suvarnabhumi airport.

Honorable mention for the best place for a quiet Thailand golf and beach holiday is the north west of the island of Phuket. Near to Blue Canyon and Mission Hills Country Club's are two beaches generally known only to the locals: Bang Tao and Naithon. Some excellent resorts such as the new Anantara and JW Marriott are on Bang Tao as is the trendy Indigo Pearl, home of Phuket's best Sunday brunch!
With two of Phuket's best courses just a stone's throw away and the clear blue waters of the Andaman Sea in abundance this area of Phuket suits many holidaymakers looking for a more upscale and exclusive Thailand golf holiday perfectly.
This post has already been read 36 times!