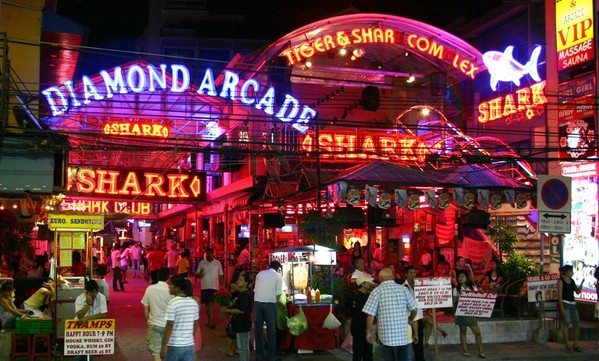 Depends on what you are looking for.  For raw and wild "in your face' action Pattaya is the place for many. Golf lovers can play the 2 excellent Siam Country Club courses in between visits to the infamous Walking Street.  Be prepared though, for some the action is just too much and it spoils the otherwise wide selection of reasonably priced Pattaya golf courses
For those Thailand golfers who can do without the bar scene but a Jazz Festival sounds appealing?… Hua Hin is it. Many consider golf in Hua Hin to be the best value in Thailand at the moment with championship courses like Black Mountain Golf Club and Banyan Golf Club leading the pack. In fact, this year Banyan Golf Club was voted the best new course in all Asia. Hua Hin town itself, while much more subdued than other Thailand seaside resorts, still has its share of nightlife. Most hotels have in house live bands and I can think of no other better way to unwind after golf than listening to live Jazz under the stars during the Hua Hin Jazz Festival.
If a street with a zillion beer bars does the trick than Phuket might be your choice (Bangla Road in Patong).  Many also visit Phuket to enjoy its white sandy beaches and golfers will find plenty of both beach and nightlife for sure. Add to that top courses such as Blue Canyon Country Club where Tiger Woods claimed one of the best come from behind PGA victory's in 1998 and Red Mountain Golf Club, arguably the most spectacular course in the island, and you have a recipe for the best golf and nightlife holiday destination in Thailand.


Like 'low key, laid back and inexpensive' Thailand golf holiday?… head to Chiang Mai.  The northern Thailand city boasts more than it's share of foreigner friendly bars and makes a perfect setting for a Thailand golf holiday. Chiang Mai is home to two excellent golf courses, Chiang Mai Highlands and Alpine Chiang Mai, both created by top designers from the USA, Lee Schmidt and Ron Garl, respectively. Green fees average around $50 US with rates slightly higher during weekends and holidays.
Still, our vote goes to Bangkok!  The Thai capital has pretty much all you could want no matter what you want.  And if you want something different every night of the week Bangkok can deliver on that as well ('One Night in Bangkok'… just ain't enough). Entertainment areas for foreigners such as Nana Plaza and the infamous Patong pretty much guarantee that those looking for this kind of nightlife will find it. For couples, more upscale options including respectable discos, hotel bars, and themed restaurants can also be found all around Bangkok.
Bangkok golf courses number around 60 with greens fees starting at as little as $10 US and going up to $100 US. This again ensures golf for everyone and at all price points. Golf clubs such at Thai Country Club offer a level of service higher than found anywhere in the world. Time and time again Thailand golfers have commented to me that golfing at Thai Country Club is more than a round of golf; it is a golf experience of a lifetime.
They say golf is a great game: sometimes rewarding, often frustrating but highly addictive. For new golfers, the game is not so hard to get started. Hopefully the following suggestions can help you find the right Thailand golf destination for you.
This post has already been read 17 times!