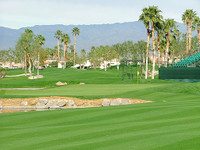 As a follow up to yesterdays post, the next and last Asian PGA tournament events of 2007, the Johnnie Walker Classic and Asian Volvo Masters, respectively, will both be good examples of prestigious golfing in Thailand this year.
Therefore, I thought it appropriate timing to post this years remaining event schedule. Also, just a thought, but if anyone is thinking about a golf vacation in Asia this year, why not plan it to coincide with one of these golf tournaments. Not only will you be able to sharpen your game, but you can also see up-close how the pros do it on tour.
Here is the 2007 Asian PGA golf tournament line up of events along with prizes up for grabs.
Mar 1-4: Johnnie Walker Classic#, Blue Canyon CC, Phuket, US$2.44 million
Mar 8-11: Singapore Masters*, Laguna National GCC, Singapore, US$1 million
Mar 15-18: TCL Classic*, Venue TBC, US$1 million
Mar 22-25: Motorola International Bintan, Ria Bintan GC, Bintan, US$350,000
Mar 27-28: The Open Championship IFQ, Sentosa GC, Singapore
Apr 12-15: Volvo China Open*, Shanghai Silport GC, Shanghai, US$2 million
Apr 19-22: BMW Asian Open*, Tomson Shanghai Pudong GC, US$1.5 million
May 3-6: Maekyung Open, Venue TBC, Seoul, US$600,000
May 17-20: Macau Open, Macau GCC, Macau, US$300,000
May 24-27: SK Telecom Open, Venue TBC, Seoul, US$600,000
May 31-June 3: Jakarta Masters, Venue TBC, US$500,000
June 14-17: Bangkok Airways Open, Santiburi Samui CC, Samui, US$300,000
June 28-July 1: Crowne Plaza Open, Venue TBC, Malaysia, US$300,000
July 5-8: Johor Classic, Royal Johor GC, Johor Bahru, Malaysia, US$300,000
July 12-15: Brunei Open, Empire Hotel and CC, Bandar Seri Begawan, US$300,000
Aug 16-19: Dynasty Cup**, Venue TBC
Aug 23-26: Indonesian International Championship, Venue TBC, Jakarta, US$400,000
Sept 6-9: Pulai Springs Malaysian Masters, Pulai Springs Resort, Johor Bahru, US$300,000
Sept 20-23: Taiwan Open, Sunrise GCC, Taipei, US$1 million
Sept 27-30: Mercuries Taiwan Masters, Taiwan GCC, Taipei, US$500,000
Oct 4-7: Kolon-Hana Bank Korea Open, Woo Jeong Hills CC, Seoul, US$750,000
Oct 11-14: Hero Honda Indian Open, Delhi GC, New Delhi, US$500,000
Oct 25-28: TBA
Nov 1-4: Barclays Singapore Open, Sentosa GC, Singapore, US$ 4 million
Nov 8-11: HSBC Champions (s), Sheshan International GC, Shanghai, US$5 million
Nov 15-18: UBS Hong Kong Open*, Hong Kong GC, Hong Kong, US$2 million
Nov 22-25: WGC-World Cup, Mission Hills GC, Shenzhen, China, US$5 million
Dec 6-9: Cambodian Open, Phokeethra CC, Siem Reap, US$300,000
Dec 13-16: Volvo Masters of Asia, Thai CC, Bangkok, US$650,000
* Co-sanctioned with European Tour
** Co-sanctioned with Japan Golf Tour Organisation
# Tri-sanctioned with European Tour and Australasian Tour
(s) Special Event.
If you need any more information on any of the events feel free to post a comment or drop me a line at my Thailand golf vacation company.
This post has already been read 15 times!