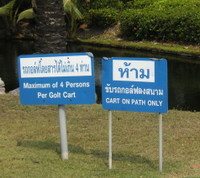 Long time Thailand Golf Zone readers know of my preference for not using golf buggies when playing golf in Thailand. I feel that riding takes away from the social nature of golf, provides limited exercise for the golfer, and disrupts the natural environment I so much love about the game of golf.
Well the other day I found a Thailand golf course that allows 4 person to share a cart, all but eliminating my anti-social argument against the use of electric buggies. Imagine this, 4 farang golfers barreling down the fairway at 1km per hour in ONE CART! What a sight!
Actually I doubt the fragile golf buggies used in Thailand could withstand the load and I am quite sure the sign board above was not meant for what it appears to be. In fact am still scratching my head as to why any golf course would go through the trouble of posting such a local rule. Even 5 ball Thai groups would never attempt such a stunt as sharing one cart among 5 golfers.
One thought though, for golfers coming to Thailand on a strict budget and having a valid medical reason that prevents them from walking the golf course, I guess this could be the answer. Four persons sharing one buggy costs only 150 baht each(around $4 US), which is another great deal courtesy of TIT!
Now for the prize competition, anyone who knows the Thailand golf course from which the golf cart sharing rule applies and above picture was taken, please send me an email at at my Thailand golf vacation company.
All correct responses will receive a free 2007 Thailand golf e-map, which gives driving directions to over 200 Thailand golf courses, an invaluable tool for budget-minded golf travelers in Thailand wanting to arrange their own transportation to/from the golf courses.
This post has already been read 10 times!