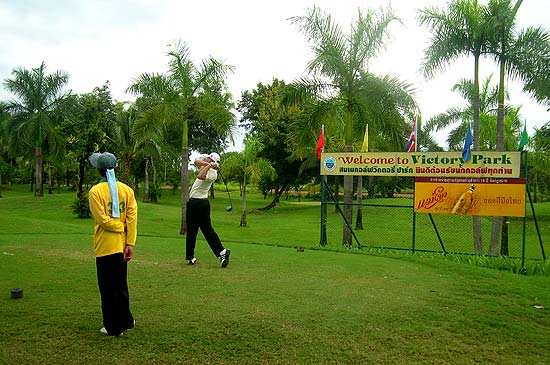 "Oh Give Me a Home, Where the Buffalo Roam… "
(Nong Khai / Udon Thani) Talking Issan & Khao Yai here, not on the range.
Issan, Thailand's northeastern agricultural heartland known for producing the world's best rice (Thai Jasmine), may not be economically wealthy though its culture is rich and its people happy and proud.  The water buffalo like it just fine too.
What you may not know though is that Issan has some of the world's best country clubs.  Seriously.  And there are many, many of them everywhere you go.  OK, so most don't have a golf course but the Luk Thung (Thai country music) is good stuff and a lot of fun.
One place though that does have a nice course is Victory Park Golf & Country Club, just outside Nong Khai on the road from Udon Thani and about 20 km from the Laos border.
The final 5 kilometers getting there will have you thinking you're lost in the middle of nowhere, as the road is a bit rough while you make your way through small villages, cows, chickens and dogs.  But just when you're wondering if you should turn around, the majestic entrance greets you and you know you've found a real golf course in a most unlikely place.
The course itself sports tree lined fairways, firm brown sand bunkers (the kind you find at older courses in the U.S. Midwest) and a well designed variety of holes.  Like the surrounding area, the terrain is mostly flat though the fairways have been contoured and mounding is used to help define them. 


'Understated but inviting' may be the best description of the course.  As you stand on the tee boxes the line of play is typically apparent and all you have to do is hit it.  There is a nice mix of straight holes plus moderate left and right doglegs.  And though the scorecard graphics indicate water in great abundance, the truth is much of it doesn't really come into play.  OB isn't much of a threat either.  More likely your errant shots will find bunkers and trees, and most of the time you will be able to find your ball and hit it again even if not from the Garden of Eden.
The clubhouse isn't luxurious but comfortable and has everything you need.
Don't expect your caddie to speak much if any English (most golfers here are Thai), but like the overwhelming majority of Issan people she will surely be pleasant with a good attitude and a ready smile.
The green conditions were rather poor when we visited though it may have just been bad timing as it appeared they had been working on them (many had been recently aerated and sanded).  And there were a number of brown spots in the fairways as well, though overall course conditions are quite acceptable tee to green for a course 'in the boonies'.  Don't expect Augusta National, but it's not a cow pasture either.  While we wouldn't venture too far out of our way to play Victory Park Golf & County Glub, it is certainly the best course within 150 kilometers and an enjoyable place to 'tee it up' if in the area.
This post has already been read 17 times!