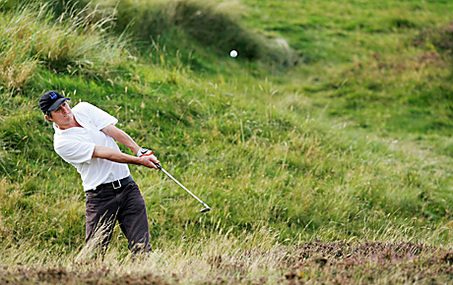 The golf courses in Thailand have some very thick rough. For example, off the fairway at the Nicklaus designed Springfield Country Club in Hua Hin can wreak havoc for even the most accomplished golfers in Thailand. If you lie is near the green, the shot becomes even more critical as it can mean the difference between making a par, bogey or worse.
To score low, you must know how to get it close from the really deep stuff. Blue Canyon in Phuket and Thai Country in Bangkok are two Thailand golf courses known to sometimes keep the rough very tall, especially when the course is being prepared for a professional tournament. Knocking it close from these lies chops one or two strokes from your score and often saves par.
Here are four ways that I have found that work well from the deep rough:
1. Use one extra club and choke up
2. Position your hands in front of the ball
3. Play the ball slightly forward
4. Use a descending blow
Some Thailand golfers like to use short irons from the deep rough. But that's hard. It requires a strong grip and strength. Plus, your release has to be perfectly timed. Release the club too early and you'll end up hitting a lot of grass and no ball.
Instead, I use a longer iron, with my hands in front of the ball, and the ball slightly forward of center. The ball will come out of the rough lower and with a lot of top spin (roll), but that beats a flubbed shot or a complete miss. 
   
Before your next round of golf in Thailand head for the practice green and drop a few balls in thick stuff. Practice hitting from some tough lies. You'll be glad you did!
This post has already been read 11 times!