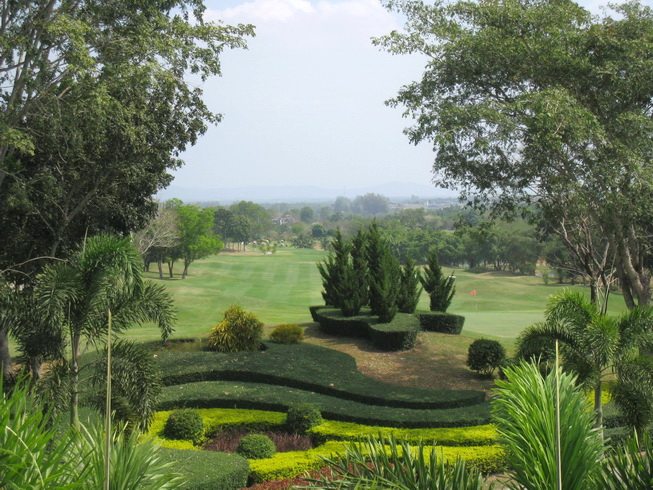 Playing the Greenwood Golf and Resort for the first time in several years last week I was pleasantly surprised by the improved course conditions, locker rooms, and halfway houses on the course. Courses A&B were the only 9's that were open, so it was an easy choice of which of the 27 holes to play for my group.
To make a long story short, Greenwood Golf is the best Pattaya golf value for 2009. Green fees of only 20 Euros qualifies the golf course for the low budget category, but course design, challenge, and most of all improved conditions put it smack in the middle of the Pattaya golf courses in terms of quality. While not as polished as Siam Country Club, Greenwood is certainly on par or slightly above the likes of Khao Kheow, which is just down the road in fact. Green speed on the day I played was quoted at 10, and while fast, seemed to be more around 9, at least to me.
Designed by Peter Thomson, 5 times British Open champion, and Michael Wolverine, Greenwood Golf is a British style course with many unique American woodland features.
Each hole is dotted with characteristic pot bunkers, undulating fairways, and areas of native grasses, both more often found on links courses. However, do not be fooled, this is no links nor even links styled golf course. Heavy forests line the fairways and wayward balls result in difficult recovery shots or worst, balls lost to the jungle.


On the other hand, uncharacteristic and a pleasant surprise, the Greenwood golf course, is relatively free from Thailand water hazards. The 3 nines present a challenging layout requiring ingenuity, careful club selection and precision driving.
The clubhouse is surrounded extensive gardens and overlooks the golf course. Inside, locker rooms that have been recently given a face lift are clean, specious, and a more generous than one finds in other budget Pattaya golf courses. To match the club house, four new upscale refreshment stops are found on the course. Beers, my benchmark of costs at Thailand golf courses are 60 baht per can, a little over 1 Euro!
If you are looking for a great round of golf in Pattaya at a price that will not break the bank, Greenwood Golf & Resort fits the bill perfectly.
This post has already been read 19 times!