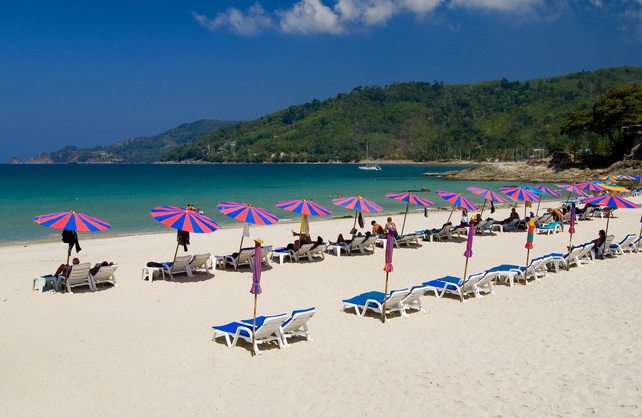 Phuket wins this one easily with eight championship golf courses, some of most beautiful beaches anywhere in the world, first class resorts, and unsurpassed Thai hospitality.
Phuket is the largest Thailand island and is located in the Andaman Sea. Spectacular scenery, tropical sunsets over palm lined clear blue water beaches, luxurious accommodations and a vast array of nightlife are what made Phuket famous with Europeans looking for a warm weather winter getaway.
Golfers will find eight top courses on the island. Several of the Phuket golf courses are of PGA standard. For example, golfers in Phuket can follow the footsteps of Tiger Woods where he won the 1998 Johnnie Walker Classic at the Blue Canyon Country Club. Also the Jack Nicklaus designed Mission Hills Country Club is a top draw as it is the only course in Phuket that plays along the Andaman Sea. Finally, the recently opened Red Mountain Golf Club is gaining in popularity as it is one of the most spectacular golf courses in Thailand!


Phuket has something for everything. For non-golfers Phuket offers exciting adventures to nearby tropical forests, snorkeling in the Andaman Sea, island hopping excursions to such famous islands as Phi Phi and James Bond, sunset cruises in Phang Na bay, and fun filled nightlife at Patong Beach. Whether it is luxurious and private, wild and unrestrained, or somewhere in the middle; you will find it in Phuket.
With so much choice and great golf, it is no wonder that some consider Phuket is the number one golf destination in Asia!
Phuket is only 1 hour from Bangkok with more than 30 daily flights and many Thailand golf holidaymakers combine the modern luxury of cosmopolitan Bangkok with the white sand beaches of Phuket.
This post has already been read 10 times!