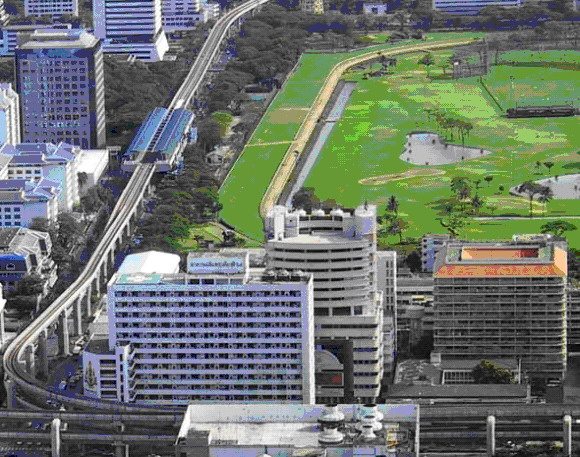 To start off this posting, a Golf Trivia Question. This has some relevance to what follows, but if you cannot wait, you can find the answer at the end. What is the lowest recorded score for a regular sized course?
Now, those of you who have travelled around Bangkok on the Skytrain – more properly the Bangkok Mass Transit System (BTS), which has made it so much easier in recent years to get around the capital – may have wondered, as you passed from Siam Square through to Sala Daeng on the Silom Line, what is that immaculately maintained large plot of green land across from the Four Seasons and Hyatt Hotels on Rajadamri Road, a veritable oasis in what is now the centre of the shopping and business districts in Bangkok?
It is in fact The Royal Bangkok Sports Club, known fondly by long-time residents only as "The Sports Club". The RBSC was founded over a hundred years ago by King Rama V, who endowed it with what is now prime land, originally for the benefit of foreign residents of Thailand, in the middle of which are sports playing fields and a golf course! The club also owns and operates a race track on Sundays, bringing in huge revenue.
Membership of the club is largely hereditary. New members are accepted, though very rarely. It is considered the most exclusive club in Bangkok, since even money cannot buy your way into it. The highly esteemed and influential members of RBSC include entrepreneurs, industrialists, business tycoons, top corporate executives, senior government officials and members of parliament. You cannot play the golf course unless you are a member, a guest of a member (and it is forbidden for members to introduce guests who are Thailand residents), or a member of a select few clubs which have reciprocal arrangements with the RBSC.
An expatriate friend of mine has been lucky enough to use the RBSC on many occasions over the thirty years or so he has lived in the Far East, as a member of reciprocal clubs in Hong Kong – The HK Football Club and The (formerly Royal) HK Golf Club. On a recent visit to Bangkok he was able to give me an insight into what goes on behind the hallowed portals of the RBSC, and I will share this with you tomorrow. It will include a review of the golf course, a fiendishly difficult, very tight, par 66 layout, yet on which a score of 55 has been achieved.
Which brings me back to the answer to the above Trivia Question: Alfred Edward Smith shot a 55, which is 15 under par, at Woolacombe, England in 1936.
Stay tuned for the continuation of this post and to learn of some more amazing facts about the Royal Bangkok Sports Club..In the meantime please fell free to posta comment or suggestion or if you prefer you can reach me at my Thailand golf vacation company.
This post has already been read 9 times!