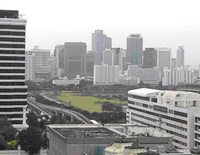 My expatriate friend, referred to in yesterday's posting has been a guest at The Royal Bangkok Sports Club (RBSC) on numerous occasions, playing rugby, soccer, cricket and, of course golf, there. Here he gives his insight into what it is like visiting the grand old club and playing golf there.
Once having negotiated your way past the security at the entrance to the RBSC on Henri Durant Road, on entering the club, surprisingly modern-looking from the outside, you feel as though you have been transported back to long bygone colonial days. A uniformed flunky opens the car door, letting you into the long open lobby and terraces, looking over huge, plush green lawns, where people are lounging about on wicker chairs under slowly twirling fans, drinking from tall glasses of iced tea while munching on dainty sandwiches and gossiping in hushed tones, whilst black-suited waiters hover about. The pace seems slow and genteel here. Most members have been coming here all their lives, and the staff are their long time servants.
The club boasts a number of world-class restaurants and wood-paneled bars and meeting rooms. Outside there is a perfectly manicured lawn for lawn bowls, a large Olympic size swimming pool, squash courts, tennis courts, cricket, football and rugby pitches, with the race track running around the whole complex. And, sure enough, the golf course. This has its own locker rooms, pro shop and cafe across the race track from the main buildings.

The beautifully maintained par 66 course comprises eighteen tree-lined, generally short holes – two par 5's, eight par 4's, and eight tricky par 3's – which, rather dangerously criss-cross each other and end on small, difficult greens, most surrounded by exquisite flower beds. Many of the fairways have water channels or 'klongs' running alongside them. So, as well as the normal one or two caddies per golfer, each four-ball is assigned a 'klong boy'. When you slice your ball into the water, the first time you will be amazed to see your 'klong boy' race across the fairway, pull off his shirt, and dive into the not very clean-looking water to retrieve your ball! You tip him the same as your caddie, more if he has had to do a lot of trawling. The caddies, all male, are excellent. They are also a great source of horse racing tips as they all seem to be related to the jockeys!
On race days, Sundays in the season, a shortened twelve hole version of the course, avoiding those holes which cross the race-track, is still playable. It is a fantastic feeling when you play a good approach shot to the last green in front of the grandstand and are cheered on by about twenty thousand people. But it is really unnerving when you come to putt out and you can hear big-money bets being placed all around, either on or against you holing your putt!
Talking of betting (severely restricted supposedly by law in Thailand), I was playing the RBSC one day when we were held up by a four-ball being followed by a crowd of about 100 onlookers, most of whom seemed to be club staff. I asked my caddie what was happening, and he explained that the golfers were four well-known wealthy Thai businessmen who played every week for one million baht, about 27,500 US dollars, per person, per hole! And yet, just over the wall from the RBSC is a tenement block of subsidized housing, just a step above the slums. In fact going to one of the club facilities, you have to drive through a small side street (soi) crowded with these run-down tenements, food stalls and tiny shops. The juxtaposition is mind-boggling. But it is also such a fact of life in Thailand that hardly anyone notices or raises an eyebrow, least of all club members (TIT)!
This post has already been read 14 times!