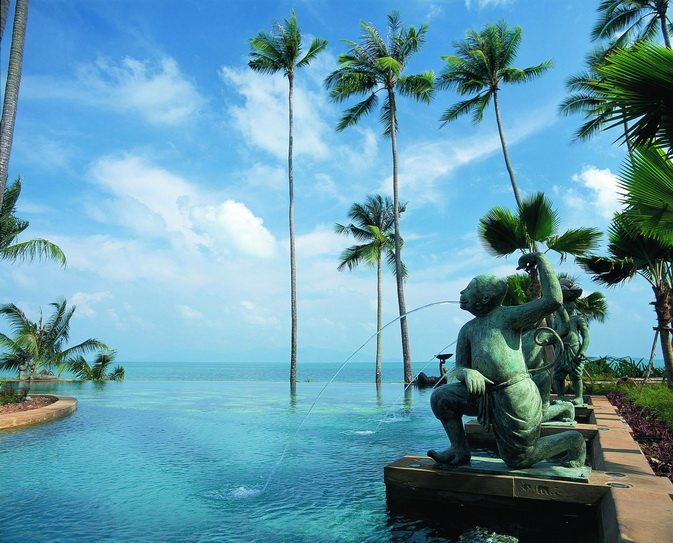 The future is looking bright for Thailand golf with investment again seeing a surge with one new golf course estimated to be opened every 3 months or so for the next two years. Thailand's visiting golfers are also on the rise and the 'Tourism Authority of Thailand' recognizes the positive effects of Thailand golfing tourism on the country's economy which is why it heavily supported inbound golf tourism since its landmark success with the first 'Visit Thailand' campaign back in 1987. Today over 500,000 golfers visit Thailand each year and this number just keeps going up.
Many of Thailand's courses have been designed by internationally recognized golf course builders & architects such as Jack Nicklaus, Nick Faldo, Greg Norman, Pete Dye and Robert Trent Jones Jr. The landscape is indeed varied, offering courses carved out of the jungle, atop of mountain retreats and bordering onto some of the world's whitest sand beaches. An apt case study is the picturesque Laguna Phuket Golf Club, which was awarded this year an IGOLF 'Laureate Course Status' by the International Golf and Life Foundation (IGOLF) for its commitment to environmental and social responsibility. Laguna is a shining example, having been rehabilitated from a barren tin mine. It now plays home to a variety of wildlife, including kingfisher birds, fishing eagles and white egrets.


Relatively low cost and high perceived value are also major benefits of heading to Thailand to play some golf. While the green fees in Europe and the USA at the best courses are around or over the 250 US dollar mark; Thailand's best golf courses are a sensible 100 US. However this doesn't denigrate Thailand to be a discounted cheap destination, but rather establishes Thailand as a value-for-money choice, which offers convenient multi-venue options. The most popular and convenient golf hubs, each offering a number of different experiences, are Bangkok, Pattaya, Hua Hin, Phuket, Chiang Mai and Chiang Rai, Koh Samui, Khao Yai and Kanchanaburi.
Thailand is a year –round golfing destination with three distinct seasons. The cool season runs from November to February, bringing clear skies, gentle breezes and temperatures in the mid 20s. March heralds the onset of the hot season with high humidity and temperatures soaring to 35 degrees. The green season from June to September is overcast with temperatures around 30 degrees and daily short afternoon rains. However, Thailand golfers are not put off by this as courses dry out remarkably quickly and prices are also at their lowest.
Thailand will welcome you with open arms, is extremely lenient on tourist visas and has an excellent infrastructure. The 'land of smiles' is a major flight hub and is served by nearly 80 airlines. All the major hospitality chains have staked a claim in the Kingdom so world-class accommodation is plentiful.
My personal choices of Thailand's best golf courses are Thai Country Club in Bangkok, Banyan Golf Club and Black Mountain Golf Club in Hua Hin, Chiang Mai Highlands Golf Resort, and Siam Country Club in Pattaya. Also, for those of a tight schedule I suggest trying Muang Kaew Golf Club in Bangkok as well. It is close to town and a great course for getting in a quick round in Thailand.
This post has already been read 19 times!