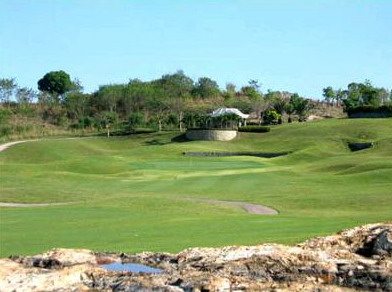 A common misconception is that scheduling Thailand golf tee times 'as early as possible' is best to both beat the heat and get back to your hotel early.  Actually this depends on where you golf in Thailand and what your priorities are.
When you golf in Phuket humidity plays a big factor on 'how hot it feels'.  During night time warm moist air over the sea moves over Phuket Island driving up humidity, then during the day the sun comes out and burns off humidity.  If you golf in Phuket, humidity will typically be highest in the very early morning and lowest during late afternoon. The "coolest" part of the day is afternoon, not morning.
Another phenomena particularly in and around Pattaya is that there is very little air movement in early morning. Then, in the afternoon, pleasant sea breezes from the gulf of Thailand descend upon Pattaya golf courses by around 2-3PM each day.  The net effect is that the most uncomfortable time of day is 9AM to 1 PM.  If you schedule to golf in Pattaya 7AM the front nine will be pleasant. But, by the time you get to the back nine, the weather can be very hot with stagnant air as you come down the stretch.  I do not know about you, but this often wears me down. On the other hand if you plan to tee tee-off at around midday it will be hot when you start, but much more moderate with pleasant breezes after you make the turn. This makes golf in Pattaya much more enjoyable.


Two things to be aware of though:  (1) From July to September afternoon passing rains can be a common occurrence around Thailand and especially at inland golf destinations such as Bangkok and Chiang Mai, so a latter tee time can be risky.  (2) Also for you 'purists' out there, the greens may not roll as true during afternoon, particularly for popular courses that get allot of play.
From a "speed of play" point of view, the first tee times of the day are best, but this means getting out of bed by 4AM and on the course by 6AM. This may be fine at home and for business and family people, but it is hardly my idea of a relaxed vacation. Thailand golf courses are most crowded from 8AM to 11AM, so if you tee-off around this time be prepared for a 5 hour round, or longer. On the other hand, the courses are much less crowded in the afternoon, so schedule your tee-time at 12PM or later and you are assured of a speedy round.
BONUS TIP: Tee-off in the afternoon, grab a cold beer at the halfway house at the 15th hole, and you will be ready for some evening fun that much sooner. You will finish around 6PM and can go directly from the golf course to dinner and more…
This post has already been read 16 times!