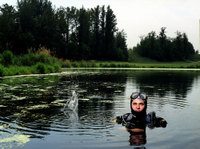 Every Thailand golf course sells used golf balls, both just outside the front gates to the course and also on the course itself. These balls, in sometimes new condition, can be "purchased" for around 200 baht for a half dozen (around 75 cents each), a significant savings from the new prices.
Most of the time they have been "fished" from the many water hazards, by an independent and full time golf ball diver (see photo on the left and No the guy is not me!) These entrepreneurs are often called "crocodiles" here in Thailand and what I like to say is that they provide much needed "rental ball services" to the many golfers in Thailand.
You see when you "buy" your balls from these men, more time then not you will just to hit them back into the water a few shots later, thus my coinage of the term "rental balls".
How do you know if they any worse than new ones?
Sometimes used balls are worse, especially if they have been hit too many times or have been in the water for too long.. Do not use any balls having water or scuff marks, even small ones, because those can affect how far and the direction the ball flies. If the ball has no marks, you can do the rebound test to compare one new ball to one used ball.
Find a smooth cement surface and hold the two balls together in the same hand, as high as possible over your head. Drop the balls together and see if they both rebound to the same height. If they do, they are both OK to use and you can confidently use your "rental ball" as you would a new one.
Well that's it for today. For the rest of the week, my clubhouse information post is almost ready and the first part should be up either tomorrow or Wednesday at the latest.
Stay in touch and do feel free to contact me for any Thailand golf information or requests for any special subject articles.
Also be sure to take a look at and listen to the latest press release from my Thailand golf travel company. I have posted the release as both a PDF document as well as the related interview as a podcast.
This post has already been read 11 times!