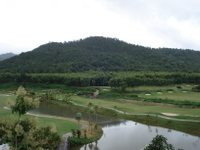 Golf up North is much different from the rest of the Kingdom. As you can see from the original photo at left (click on the thumbnail for a great high resolution shot), there are many mountains, and thus frequent elevation changes at many of the Chiang Mai and Chiang Rai courses. Also, be located high above sea level, makes temperatures much cooler, with even a light jacket sometimes needed in winter.
On the other hand, during the summer months (now!), the rains can be very heavy, thus stopping play and even resulting in course closures.
In fact, this last week has seen the closure of Gassan Khutan, Chiang Mai Highlands, and Lake City golf courses. This has been a terrible blow for these courses specifically and golf in Chiang Mai in general. the fairways and some greens were under water for 3 days with severe and lasting damage the result. I suspect the quality to be badly affected and hope that the greens superintendents can get the course back in top condition before the tourist season starts in November.
In any case, I thought best to share this unfortunate situation with everyone, so there are no disappointments for anyone going up North to play.
Also, just a preview, I am working on a great new post about Thailand golf clubhouses, pro shops, and locker rooms, the first of two parts to be posted on Monday. This was a requested post and I encourage everyone to contact me should you need any Thailand golf information. Have a great weekend.
Mark
This post has already been read 10 times!