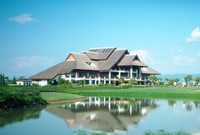 All of the Thailand golf courses have these grand structures like the one from the Chiang Mai Green Valley Country Club, shown at left. But what is inside and how does such facility affect your game?
For the many regular golfing visitors to Thailand, you will be aware of the excellent facilities and services available at the courses and within the clubhouses.
However, For the first time visitor, the following information will help you plan your trip to the course more effectively, and ensure you can get the maximum from the facilities available.
Upon arrival at the course, you will be greeted by the 'caddie master' and your personal caddy is then allocated to you. They will look after your clubs until your tee off, giving you the opportunity to go into the clubhouse and register for your allocated time.
Every clubhouse also has a 'locker room' facility, where you can then change into your golf shoes and store your personal items and a change of clothes that you will require after your game. This is very much recommended as you are likely to be very hot and in need of a shower after 5 hours in the sun!
All the lockers have their own key and are lockable (hence the name!) so your personal items will be very safe. However, I would recommend that valuables such as your wallet/purse and mobile phone are kept by you personally just to ensure safekeeping.
The vast majority of clubhouses will also include a Pro Shop, selling such things a golf shirts, hats, balls, gloves etc.
Most of the clothing will include the clubs logo, on the shirt or hat for example, and this is a great souvenir from the course to take home as a memory of your holiday.
Balls both new, and as mentioned in yesterdays golf diving post, second hand (collected from the various water hazards I sometimes call these rental balls since you are likely to hit them right back into the same place they came from.!!!!) are available ensuring you will never be short. These shops will stock many different brands including such names as Titleist and Calloway, ensuring you have the right ball for your game.
The majority of Pro Shops will also provide rental clubs for any keen golfers who have not brought their own clubs with them.
All clubhouses have restaurant facilities and you may wish to take some light refreshment prior to your round but if not, it is off to meet your caddy.
I will finish this post tomorrow with my own comments on eating at the clubhouse, shower facilities, and some additional suggestions to get the most enjoyment from your round in Thailand.
In the meantime, if you need to reach me you can contact me using this pre-made email form from my Thailand golf vacation company.
This post has already been read 9 times!