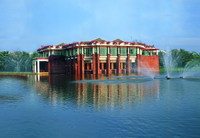 Facilities at such famous venues as the venerable Thai Country Club, with the best clubhouse in all Asia, can be quite daunting.
Here is the second and final part of my clubhouse article covering food, locker facilities, and what to do prior to and after your game to get maximum enjoyment and realize the dream of a total golf experience!
I would also recommend a short warm up (just like the Pro's) and most courses do have a driving range area where you can hit some balls
Thereafter, you should spend at least 10 minutes on the practice putting green fine tuning your stroke and getting the pace of the greens you are about to encounter. Whilst not every course has a driving range, all courses have practice putting facilities.
With your caddy by your side it is then off to enjoy your game. On completion of your round, your caddie will either take your clubs directly to your transport, or keep them outside the club house until your transportation arrives. It is their duty to ensure your clubs are safe until you depart the course and they do this with great pride. This is a good time to reward your caddie for her much appreciated hard work, with her well deserved tip. See my golf caddie post for more information
In the clubhouse, you can then use the wide range of facilities on offer. Every club will have shower facilities although the standard does range from the older courses to the newer, more modern clubhouses. By this I mean that some locker rooms and shower facilities may be a bit 'old and worn', although the shower on offer is still of great relief, and the general cleanliness is excellent. The newer and more expensive courses provide very clean and modern facilities. At all courses, towels are supplied together with shampoo and shower gel so you need not bring any extras with you. A simple change of clothes including shorts, underwear, and t-shirt is all that is required.
In addition to shower facilities some courses also provide Spa and massage facilities for your complete relaxation after your game. What better way to relax than 15-20 minutes in a Jacuzzi followed by a relaxing massage for an hour! Choices vary again depending on the actual course in question, and the more exclusive clubs will include full massage facilities including the choice of foot, traditional Thai, or an oil massage.
In the locker room you can also have your golf shoes cleaned and all is expected is a small tip, 20 baht (or US 50 cents) will do. Simply give your shoes to the attendant and they will be waiting for you when you finish your shower.
Once you are totally refreshed after your shower then you can enjoy a light meal and drinks in the restaurant or perhaps something stronger should you feel the need. A couple of cool beers after 18 holes in the sun always works for me!
Overall, the clubhouses throughout Thailand provide excellent facilities with the vast majority being very clean and well maintained, providing you with maximum enjoyment during your golfing experience.
I hope this article was useful, especially for all golf visitors to Thailand. If you need more information, please post here or if you prefer to reach me you privately, I can be contacted using the email form from my golf vacation in Thailand company.
This post has already been read 13 times!