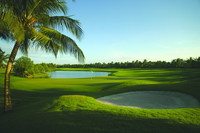 The five must play Thailand golf courses are all are located near popular tourist destinations; making them easy to get to if you are visiting Thailand. Over the next two posts I will review each course as well as cite specifics as to past tournaments, current playing conditions, and facilities on offer.
Number one and two are located in Bangkok. Thai Country Club (TCC) and Alpine Golf and Sports Club, are both good examples of very challenging, well designed courses. Each is kept in immaculate condition and the greens always are lightening fast.
Thai Country Club will host the Asian Tour's season ending Volvo championships for the next 3 years, and has previously hosted the Honda Classic of which world famous golfers Tiger Woods and Ernie Els played. When visiting, you can stand on the back of the dog leg 10th hole and see in amazement the tee shot that Tiger Woods hit when he drove this par 4 hole. Unfortunately, he three putted the green, which sent his temper flaring and lowered his status among Thais due to his child like emotional outbreak. In addition to the course itself, everything about the TCC is first class, making this courses and it's facilities is the finest example I have found world over of the perfect golfing experience. The club house, managed by the Peninsula hotel, is constantly rated as the best in Asia.
In 2000, Alpine Golf and Sports Club hosted the Johnnie Walker Championship, a co-sanctioned event between the Asian and European golf tours. This event was also won by Tiger, and he did a good job to keep his cool during that tournament. Although not an overly long course, it is a very demanding test of golf with the par 3s particularly difficult as they are long in length, with many bunkers around the well guarded greens awaiting errant tee shots. The large back to front sloping greens make accurate, below the hole, approach shots another key to good scoring. The facilities at the course are also first rate, even if not as perfect as the TCC.
The second part of this post will cover the other 3 must play Thailand golf courses. Please let me know any favorites you may have by posting a comment. Also, if you need to reach me you can contact me at my Thailand golf holiday company.
This post has already been read 8 times!