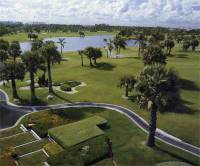 What does Thailand golf have to do with Rock & Roll? Well the 27 hole Lakewood Country Club's 3 nine holes are aptly named Lake, Wood, and Rock. Only Roll is missing. Perhaps I should suggest this very appropriate name, Rock, for the next 9.
A few days ago I had the opportunity to play at this popular, easy to reach, Bangkok course. It has been a few years since I had played Lakewood, popularized mainly by the large membership of Asian expatriates. And since it was a weekday and I had read some very good recent reports about the golf course, I was expecting the best.
However, I was unimpressed from the time that I arrived and learned of the ongoing BMW sponsored tournament (slow play!). Moreover, I was shocked when I paid the $80 US weekday green fees, which is higher than any course around. But this had better be a great round, I told myself!
On course, I found most of the holes, despite being well manicured, to be rather boring, straight and have little in the way of any elevation changes. The greens were also flat and quite slow rolling no more than 7 or 7.5, in spite of being posted at 8 plus.
What I can say positive about the course is not much, except for the nice scenery which consists of many well manicured flow beds, larger than normal tree lined fairways, and very interesting (very large and pretentious) homes surrounding the course.
I would suggest anyone playing a few rounds of golf skip Lake Wood, at least for the time being, as there are far better courses and superior golf values all over Bangkok, and Thailand for that matter. Other area courses like Subhapreuk, Green Valley, and Summit Windmill are all better choices, and even the close in to town Muang Kaew would be a preferred selection for a quick day at the links.
If anyone has any other experiences or can explain why the course is so popular, please let me know. I do not get it!
If you need to reach me you can contact me directly at my Thailand Golf Vacation Company.
This post has already been read 11 times!