Thailand golf history is steeped in tradition as covered in last Friday's post. Here is my information about the modern times golf history in Thailand. You can recognize many of the courses mentioned, and feel proud when you step up to the tees there, not only are you playing a a great course, but one with a royal history.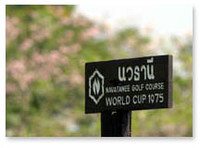 Modern times golf was introduced into Thailand at the beautiful Navatanee Golf Course in Bangkok, which was purposely constructed in 1973 and hosted the World Cup of Golf, in 1975.
Even more recently, Thailand is now hosting world class golf tournaments attracting such players as Tiger Woods, Ernie Els, and Nick Faldo to name but a few.
Courses such as Blue Canyon in Phuket have played host to international tournaments together with Thai Country Club and Alpine Golf Club in Bangkok during the last few years.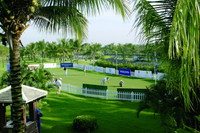 Thai Country Club (at left) will in fact host the high profile Asian Volvo Masters for the next 3 years. Blue Canyon will similarly host the Johnny Walker Classic over the same time period.
Thai professional golf is also flourishing and during the last 2 years Thais have won the Asian professional golfers order of merit table. In particular Thongchai Jaidee is flying the Thai flag as they say, competing both on the Asian and European tours, together with appearances in all of golf's major tournaments.
The development of new championship standard courses in Thailand continues at an amazing rate, following the slow down after the economic crisis in 1997. During this period many courses under construction never reached completion and new courses that had opened became run down very quickly.
At present, there are now over 260 courses located throughout the country, with one new course being opened every month! There is a huge investment being made in Thailand into golf and the facilities and courses are ideal for a dream golf vacation.
If you would like to discuss any item related to Thailand's golf history please feel free to post a comment. Also I can reached at my Thailand golf travel company and would be happy to arrange a round at any of the courses mentioned in this article.
This post has already been read 9 times!