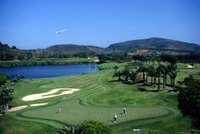 The second part of this post will cover the other 3 must play Thailand golf courses. Please let me know any favorites you may have by posting a comment. Also, if you need to reach me you can contact me at my Thailand golf vacation company.
The first two of the Thailand golf must play courses were covered in the part one of this article. Here is the final part of this post which covers the other three must play choices.
The third course is Phuket's, Blue Canyon Country Club site of the 1994 Johnnie Walker Classic. The course will host the same tournament again again next year and for the 3 years following until 2010. Playing in Thailand for his first time, Tiger Woods won the past event after he came from behind to eclipse a nine shot last round deficit to beat Ernie Els in a sudden death play-off.
Blue Canyon boasts two 18 hole golf courses, the Canyon course, and the Lakes course. The Canyon having been the tougher of the two, will face serious challenge from its sister course after the year long Lakes course renovations are finished next month.
The Canyon's signature hole is no 13, which demands a long tee shot over a canyon, followed by an uphill iron shot to the green. Just as you thought you had got through the worst of it, the next hole is an equally challenging par 3, nearly 200 yards downhill to an island green surrounded by water, and arguably the most scenic golf hole in all Thailand.
Must play courses four and five, Laem Chabang International Country Club and St Andrews 2000 Golf Club, are both located in the Pattaya area and each have quite unique features. Laem Chabang, with 27 holes that were designed by Jack Nicklaus, bear all of his traditional hallmarks with very large fairway bunkers, numerous water hazards and left to right dogleg holes. The greens are very large and sloping in line with the terrain, ensuring maximum care must be taken whilst putting.
The truly unique feature about St Andrews 2000 is the two par 6 holes, measuring over 1700 yards between them off the back tees. Hole number 4 is certainly the most testing of the two, with a drive that requires a 200 yard carry over water, which then doglegs sharply right, when you have to hit over the same expanse of water, albeit in a slightly different direction. Once you have succeeded with your first 2 shots you are then left with a long, tight, well bunkered fairway before reaching the green. It is truly a once in a lifetime golfer's experience to have played both these par 6 holes.
There are many other excellent courses throughout Thailand and I, like everyone will have their own personal favorites. I would love to hear form you as to your top choices for the must play Thailand courses so please feel free to post a comment.
In the meantime, if you need to reach me you can contact me at my Thailand golf vacation company.
This post has already been read 9 times!