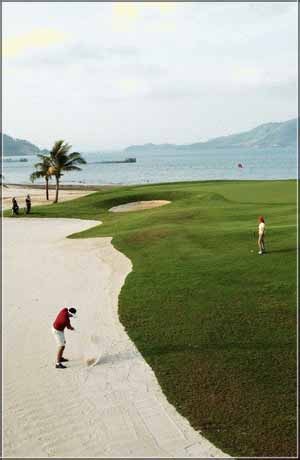 The final Phuket golf course review and latest addition to Phuket's array of fine golf courses is Mission Hills Phuket Golf Resort and Spa. Opened in 2005 on the scenic north-east coast of the island the course is about a 40 minute drive from Patong Beach. There are 27 holes designed by Nicklaus Design (Golden Bear International Inc.). 9 holes can be played at night. The Championship course measures 6,308 yards.
Mission Hills might be by the sea and has some splendid sea views, but it is not a links course. As with many Nicklaus Design courses, there are a number of distinguishing quirks, like the stretches of sand dissecting some fairways and the two greens that offer alternative finishes on Hole 18.
Paspalum Sea Isle grasses have been used for the fairways but, to date, this has not been a success. Once this problem is eradicated, Mission Hills will offer championship standard golf.
The signature hole is probably No. 13: This is the longest par 5 on the golf course, with superb views of the Andaman Sea. Your tee shot down the left will set up the second shot to an island of green in a sea of sand. Only the very biggest hitters can reach the green in two, and your third shot has to be perfectly placed to keep the ball on the convex shaped green.
The finishing hole again is typical Nicklaus design with a variety of options facing the average golfer. If playing to the right side of the double green, your tee shot needs to land between the lake and the mid-fairway bunker for the best angle into the green. If opting for the left side of the green, you can choose either to carry the mid-fairway bunker, or place your tee shot as close as possible to the left fairway broker for the best angle of attack. Your shot to the green should be short and left and the ball will follow the contours of the green and feed into the pin.
The driving range boasts five target greens. International restaurants, bar lounges and a swimming pool are part of the 72 room-resort. There is also a pro shop, patio cafe, kiosks, plus a private function room, and of course a spa. If you would like any more information on any of the Phuket golf courses feel free to post a comment here or if you need to reach me you can contact me at my Thailand golf vacation company.
This post has already been read 8 times!