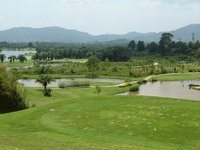 My golfing in Phuket series continues today with a review of Loch Palm Golf Club.
Close to the Phuket Country Club and designed by the same architect, is the Loch Palm Golf Club. This course encompasses two sparkling lakes and has several demanding holes providing a real test of skill – including the tough 18th hole, with blind shots almost all the way to the green. As with all of the courses in Phuket, Loch Palm has charming, smiling, helpful caddies, and on this hole you definitely need your caddie to point the way to the green!
Hole 16, a 220 yards Par 3 beside a large lake, is probably the most challenging hole. The green is guarded by two sand bunkers. A poor bunker shot from the left sand trap will result in the ball rolling downhill quickly. To get the ball from the right bunker is not easy as the bunker is at least 2 meters in depth. You can easily end up with three putts here on the difficult green.
The Crystal Lake's 48 acres of water and its smaller sister lake's 12 acres give off refreshing cool breezes. This, together with the fact that the Loch Palm course is relatively short and is one of only three courses in Phuket with golf carts (Blue Canyon Lakes and Mission Hills being the others), makes it very pleasant and quick to play – if only to promptly arrive at the restful 19th hole overlooking the lake where ice cold beers accompany tasty Thai food.
Loch Palm Golf Club has new owners who have spent considerable sums of money to add the finishing touches to the golf course and enable a splendid club-house to be opened.
And now, a further eighteen holes are under development (designer Jon Morrow). The first nine are already open and offer stunning sea views against a backdrop of lush, tropical forest. A review will certainly follow here soon, so be on the lookout. In the meantime, if you need to reach me you can contact me at my Thailand golf vacation company.
This post has already been read 11 times!