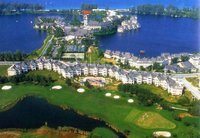 Here is my next Phuket golf club review of a course also presenting good, holiday golf, the Laguna Phuket (formerly Banyan Tree) Golf Club at the Laguna Resort. It is most convenient to residents in the five top class hotels at the Resort and also only 25 minutes drive from Patong Beach.
This is a course designed by Messrs. Max Wexler and David Abel to high standards, but geared to give pleasure rather than pain. Low handicappers will find that it provides plenty of challenge to test their skills but higher handicappers need not feel overawed.
The course is set on a valley floor overlooked by low wooded hills. The well-landscaped layout is dotted with clumps of palms and graceful casuarina trees. The fairways flow nicely, the bunkers are moulded and the greens are generally large and welcoming.
The first half of the course is carved out of hills and its fairways meander through a once flourishing coconut plantation. The second half is flatter but more difficult. As with Thai Muang, the finishing 4 holes are the most attractive yet most challenging: the 421 yard par four 15th, where you hit your second shot into a green seemingly in the shadow of the low hills behind the hole; the 152 yard par 3 16th with its long green guarded by strategically placed bunkers; the monster 612 yard par five 17th, requiring you to play at least twice over or around water; and the fine 527 yards par 5 18th hole running in front of the Allamanda Resort, where three well struck shots will land you in sight of a finishing birdie.
The practice facilities are extensive and include a driving range, putting green and chipping areas. Right next door to the golf club you will find the excellent golfer's café and the Banyan Tree Hotel & Spa, a haven of peace and security.
If anyone is considering going to Phuket for a golf holiday any reputable agent should include at least one round at the Laguna Phuket golf club into their packages. However, if you need any assistance booking advanced tee times, feel free to drop me a line my Thailand golf vacation company.
This post has already been read 11 times!