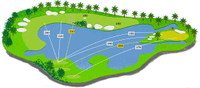 The 10th hole at Phuket Country Club, one of the few par five holes where you can be on or close in one, was covered yesterday!
Now I thought best to go over some related golf research and trivia regarding the little know flight of the golf "condor".
There are only three recorded instances of a 'condor' – four strokes under par on a single hole.
The longest hole-in-one in the UK was set when Shawn Lynch cut the corner off a dog-leg on the 496-yard 17th hole at Teign Valley Golf Club in Exeter. The hole follows a 100 yard plateau before a sharp turn to the left from where there is a steep slope to the green. The course had recently opened and the ground was bare and hard. Lynch hit his shot over the corner and it ran down to the hole. Today the course is quite lush and the shot would be impossible.
Another occurred in 1962 at the Hope Country Club in Arkansas. Larry Bruce cleared a stand of pines on the 480-yard right dog-leg par five on the 5th hole.
There was also a condor on a straight par five. Mike Crean holed a 517-yard long shot. This huge drive was achieved at altitude at the Green Valley Ranch Golf Club in Denver in 2002.
Today, I plan to speak with Phuket Country Club's GM to see if anyone in Thailand can be added to the list of those who have accomplished this amazing golf feat.
Also, while on the subject of amazing achievements and getting even wilder, there is a course in Pattaya where it is conceivable to get five strokes under par on a single hole. This "U-shaped" 800 yard par six golf freak is the 4th hole at St. Andrews 2000 Golf Club. Anyone know what you would call a hole-in-one here, other than TIT (This is Thailand)?
I hope this story and little bit of history has helped you to think about what is possible not only in golf, but also in life. Tomorrow, I will continue with the next Phuket golf course review. In the meantime, if you need to reach me you can contact me at my Thailand golf vacation company.
This post has already been read 8 times!