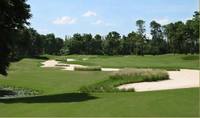 When I first heard the name "Lam Luk Ka" my reaction was "what is that?" It sure did not conger up an impression of a championship golf course. Well this is Thailand and as they say anything goes here. In reality Lam Luk Ka is the name of a sparrow like bird in Thai, so I guess if a great golf course in the USA can be named Winged Foot then what's wrong with a course named Lam Luk Ka in Thailand.
It has been a few months since last playing Lam Luk Ka and what I can say is that this course, especially the tougher East Course (there are 36 holes in total) is in the best condition as I have ever seen since it opened 10 years ago.
Not only is the condition fantastic, but to score well you have to always keep in mind the many blind water hazards that are placed just over the artificial fairway hills or else a perfect shot can actually be a disaster when you find your ball in the water hazard. The other unique point about this course is the 200 plus yard par 3's. Every one of these has a very nice and large lay-up area, but more times than not you will be very tempted to go directly for the green to make a birdie or easy par, only to find your self in of the massive high lipped green side bunkers and settling for bogey or higher.
Someone (the greens keeper for sure) is doing something right since the greens, tee boxes, and fairways were all in perfect playing condition. I was most surprised by the greens, not only were they flawlessly maintained by they were rolling at 9, which is as fast as the Thailand benchmark Thai Country Club or Alpine.
The other thing that struck me as unusual was the lack of golfers. Usually the afternoons see the local businessmen try to get in an early round. However, last Friday the course was practically empty. I guess at 65 minutes from Bangkok it must be just a little too far to get to for most people dashing off from work early.
I can at present heartedly recommend that Lam Luk Ka be on the short list of must play courses for anyone planning to get in a few rounds in Bangkok.
This post has already been read 15 times!