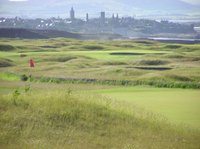 Here is the continuation of the post I started last Friday.
In Thailand, golfing gives a premium to those who can hit your shots to specific targets, and not worrying to much about what the ball will do upon landing. The soft conditions ensure it will not travel so far.
In Scotland, you can easily get 50- 60 yards run on your drive, and must play approach shots short of the green to allow the ball to go forward from the firm ground. This is not always the case but certainly applies on links type courses.
Chipping and pitching are also very different as the grass on the links course is cut very short and is similar to the fringes of a green out here. That together with the hard ground underneath means you certainly do not wish to lift your head! Many times a putter from 20 yards from of the green is not such a bad shot. In Thailand, it's out with the lob wedge and hit it up in the air
As you will see, they are certainly 2 different games, but the golf in Thailand, with the many excellent and challenging courses is just as good and believe me, just as difficult. At the end of the day, you still have to hit good golf shots to get good scores.
During the months of November to February, winter time in Thailand, I cannot think of better conditions anywhere to play golf, and certainly a better proposition than Scotland at this time of year. Light breezes, constant sunshine – need I say more! Even during the so called 'hot season', I would still recommend people to visit and enjoy the courses, which are then much quieter than the peak season of November through to February.
There are many other comparisons such as the excellent clubhouse facilities that are extremely well set up in Thailand. Large locker rooms with showers, saunas and massage facilities, you do not get this in Scotland after a cold damp day on the golf course.
Another area that I like to continually remind my friends back home about are the famous Thai Caddies, a service that I would gladly pay 3 times over for!
Friendly, polite, funny – yet professional at the same time, the caddies are a wonderful experience. Caddies are not available in Scotland, except at the more famous courses that I mentioned earlier. However with green fees anywhere between 6000 – 8000 baht, and a caddy tip of around 2000 baht, you can see why Thailand is a bit more attractive. In addition, your caddie in Scotland is more than likely to be a less than young gentleman, who has spent a few to many years in the 19th hole. Nevertheless, he will be an excellent caddie and a true Scottish character with plenty of stories to tell.
Apart from these courses, chances are you'll be carrying your own clubs!
Now compare this scenario against the availability of caddies at every single course in Thailand, together with the fact that they tend to be young, pretty and great fun – no wonder my friends back home are so jealous!
Golf in Thailand and Scotland is certainly a case of 2 extremes.
This post has already been read 9 times!