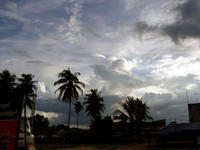 The rain is over or is it coming late?
The last few weeks have seen ever increasing days of better and better golf weather. The usually heavy rains are for the most part over and were short lived this year. Form North to South the golf weather is as follows;
Chiang Mai and Chiang Rai: Scattered showers with partly cloudy skies. Daytime golfing temperatures around 30C (85F). No reported rain outs. However, usual heavy August rains may be on the way anytime during the next month.
Bangkok, Pattaya and Hua Hin: Generally overcast skies with very scattered early evening thunderstorms. Low humidity is leading to quite pleasant golf conditions. Good club selection is very important as we are seeing windy conditions, especially in the late afternoons. Excellent playing weather is being further bolstered by cooler than normal day time temperatures of only around 28C (82F).
Phuket and Koh Samui: Hit or miss rains still have not triggered any rain outs even in the South. Courses are some what water logged due to normal monsoon rains over the past 2-3 months. However, the playing situation is expected to gradually improve as rains subside and courses dry out. One bonus form the weather is that the greens are fully grown and in very good rolling conditions with only a few bare spots.
Overall the Thailand weather for golf will continue to improve from here throughout the country, except possibly in the North, leading up to the start of the tourist season in November. Early indications this year are that the visitors will start to arrive earlier than normal in late September and early October. The one thing to watch out for, know, and try to avoid, is each course for around two weeks after they do their annual greens coring, usually slated for the October or November time frame.
feel free to email me at mark@golfasian.com for the latest conditions and greens coring schedules.
This post has already been read 10 times!