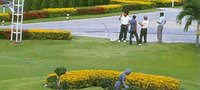 Here is the third part of Respect "The Elders": A British expatriate golfers favorite Thailand golf courses.
Khao Cha-Ngok Golf & Country Club, Nakornnayok
Having a home in Nakornnayok has provided the opportunity to play this golf course regularly. I was lucky. The course did not exist when we built the house. The only course in the area was the lovely Sarrika Golf Club which was closed and converted into a coffee plantation. I was devastated. Then came the cavalry to the rescue. Khao Cha-Ngok, in my opinion, is one of the finest tests of golf in the Kingdom. It's long – and gets longer. The greens are as slippery as Augusta National but with more deceptive slopes! It's possible, in fact easy, to putt right off the green. The 4th (par 4) is one of the best holes in Thailand and would feature on my 'great holes' card at No. 4. Requiring a good spank with a driver over a considerable block of water the good amateur will be left with a knee knocking shot of 160-170 yards over another very deep pond to a tiny sloping green. Anything short just rolls down the steep slope into the waiting water. It's a real workout to walk round but for the less hardy there are carts.
Every hole has its own unique way to wreck your card and usually does. But the satisfaction of completing a good round here is grander than any other venue. This course is kind to good golfers only if they treat it with great respect. I do and you will too.
To be continued, but remember to Respect "The Elders"!
This post has already been read 9 times!