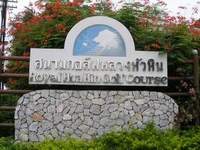 Here is the second part of Respect "The Elders": A British expatriate golfers' favorite Thailand golf courses.
Royal Hua Hin Golf Club
So much has been written about this old beauty which retains the aura of an elegance of a bygone era in old Siam.. A Scottish railway engineer, A. E. Robins, obviously a keen golfer, laid the course in 1924 for the then King of Thailand, Rama VI, and his enthusiastic golfing partner Queen Rhamphaibarni.
The basic layout, in the hills behind the old Hua Hin, Bangkok-Singapore railway station which lies adjacent to the club-house, has not been changed. It would be sacrilege to attempt it. The owners, Boonrawd Brewery, makers of Singha Beer, have in recent years made big improvements to the fairways and greens, without in any way changing the glorious traditions and unique personality of this classic golf course. Constructed around the base of a limestone mountain range, the course is covered in lush, natural jungle vegetation that clings to the edge of the rocky overhangs and boulders. Royal Hua Hin also has lovely views of Buddhist temples that are perched on the hillsides that blend into the dense foliage of the surrounding area.
There are regular watering holes offering various snacks. Unlike most Thailand golf courses, these are franchised, and run by third and fourth generations of local families. Many of its fairways are lined with huge trees and topiary shrubbery in shapes of animals and Thai mythological creatures. There are no water hazards, though monkeys have been known to make off with golf balls hit too far off the fairways near the jungle on several of the holes on the back nine. It requires good golf to score well.
The prayer tree between 1st and 10th tees has witnessed more requests for assistance than prayers of gratitude for a good round. Where else can provide such views of woods, temples and sea within 5 minutes trishaw ride of a thriving seaside resort town. Yes, there are plenty of magnificent new courses near but any golf tour to the area should include the old masterpiece. It's no coincidence that Royal Hua Hin has produced many of the Kingdom's finest professional golfers including Sucree Onsham and Suthep Meesawat. These tree lined fairways and small greens require absolute accuracy with approach irons. It's an annual pilgrimage of mine and I haven't missed it for 27 years.
To be continued, but remember to Respect "The Elders"!
This post has already been read 13 times!