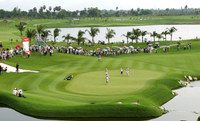 Here is the final part of Respect "The Elders": A British expatriate golfers favorite Thailand golf courses.
Set in the rolling hills behind Pattaya, this layout always gives me a lift. Being the first golf course in the area, of course the architect, I. Izumi, had the pick of prime locations and he did select well. The long driveway through the gentle hills past the reservoir and the sprawling mausoleum of the founding father builds the anticipation for a special day out. I particularly like the opening hole on each nine. Driving down hill always gives you the essential feeling of power to commence a good round. If there are weak points it's certainly not the scenery which is breathtaking – it's always breezy and to be honest the caddies are perhaps the happiest, friendliest bunch in the land. There is nothing lacking in hospitality and good cheer.
If only the greens could be redesigned and laid by a top knowledgeable contractor. If only the lies on the fairways were more consistent. If only there was less traffic (but then perhaps the fees would go up!). If only one of the big name golf architects could surely make it, once again, a real treasure capable of holding the biggest of professional golf tournaments.
My dream comes true!
After a 2 year closing, Siam Country Club re-opened in March 2007. The course having under gone a complete renovation by the famous Schmidt-Curly design team and has been renamed to the Siam Country Club Old Course following the Scottish tradition recognizing classic golf courses. It is now one of the best courses in Pattaya, even rivaling Laem Chabang for top honors. Hosting the 2007 Honda LPGA classic was a put the Siam Country Club back one the map and re-affirms its former statue of one of the finest golf courses in Thailand.
When golfing in Thailand don't forget the legendary oldies. They are generally aging with grace. Give all these fine old golf courses a try. You'll learn to respect the Thai elders as I do. It's only right!
This post has already been read 15 times!