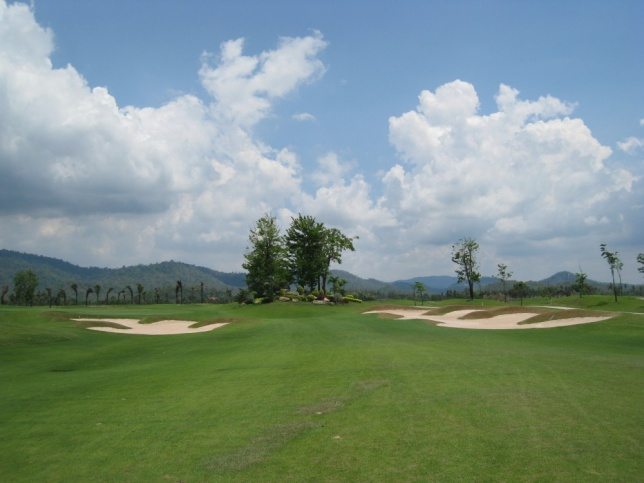 Everyone knows the best regarded Hua Hin golf courses are Banyan Golf Club and Black Mountain Golf Club.  How about other Hua Hin golf courses for the more adventurous?
Located an hour north and 40km inland from Hua Hin in the Thai Kaeng Krachan Estate lies what might just be Hua Hin's least known, most under rated and best valued golf course? The 27 hole Kaeng Krachan Country Club is hardly known by the locals, no less Thailand golf holidaymakers.
After travelling due north from Hua Hin and leaving the main highway, the road to Kaeng Krachan deteriorates into virtually a dust path. Don't be put off by this or worry you have taken a wrong turn, just keep following the signs to the Kaeng Krachan Estate. Sure enough fifteen minutes later the Kaeng Krachan golf course can be seen and first impressions of a natural parkland course are excellent.


The original 18 at Kaeng Krachan was designed by the Thai architect Cherd Boonyaratavej in 1995. The main course meanders through the rolling hillside and the park land layout gives you the feeling of playing in Spain or Portugal.
The Jack Nicklaus designed new 9 holes opened in 2007 and is a typical Nicklaus design with generous driving areas and well bunkered greens. Classified as a mountain course it is well named as its set amongst spectacular mountains which is most untypical of the Hua Hin area and other Hua Hin golf courses. Whichever 18 you decide to play, you will not be disappointed as all 27 holes offer unique challenges among natural surroundings.
Kaeng Krachan is not practical to include in most mainstream Thailand golf package and with only $20 US dollar green fees Kaeng Krachan is too inexpensive for most tour operators to make any money on. So don't be surprised if you have not heard of this Hua Hin golf course.
This post has already been read 12 times!