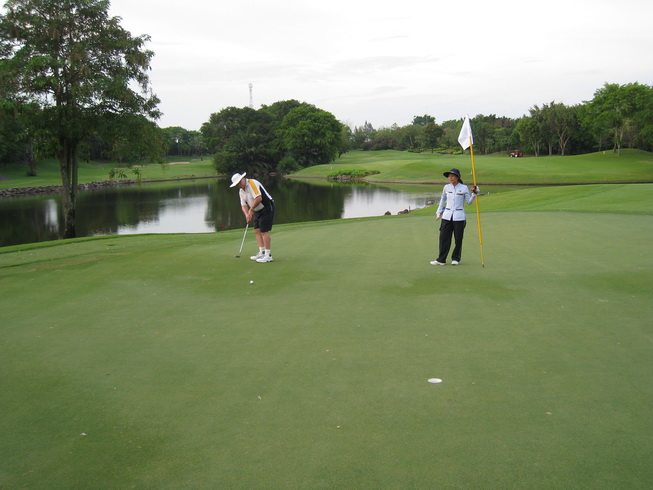 Recently I have seen green speeds on Thailand golf courses run from a slow 7 on the stimpmeter at Majestic Creek Country Cub in Hua Hin to a speedy 10 at Red Mountain Golf Club in Phuket.  At other times, like after a professional event, green speeds can run as high as 11 or 12. Siam Country Club Old Course was like this in February after the Honda LPGA.
With such a great variation in green speed and importance on distance in lag putting, how can the visiting golfer in Thailand be successful in judging the green speed at each Thai golf course?
Well fortunately all of the golf courses in Thailand have practice putting greens and I find that hitting some long pouts just before starting my round helps allot to be successful on the golf course.
I take five balls to the practice green and mark off distances of 10, 20, and 30 feet from the hole with tee pegs. Then I putt five balls in a row from each tee and try to get the ball to stop within three feet of the hole. I start at 20 feet, and then move to 30, and finish at 10. Staggering the distance like this prevents me from just grooving only one stroke as I go. I move to the next distance when I get five straight putts in a row within 2 or 3 feet (or the approximate length of my and most average putters).
This is a great little drill and simulates real golf with a little pressure. When I get the first 4 right, I then feel the heat to get the fifth within the circle.
This drill is also used by allot of the Asian Tour players and in fact I picked it up when I golfed in  Cambodia at the Cambodian Open Pro-Am in March. The only difference between me and the golf professionals is that they normally used distances of 30 – 50 feet, while I prefer setting up the tees at shorter stations.
Give this drill a try and watch your game improve when golfing in Thailand!
This post has already been read 9 times!