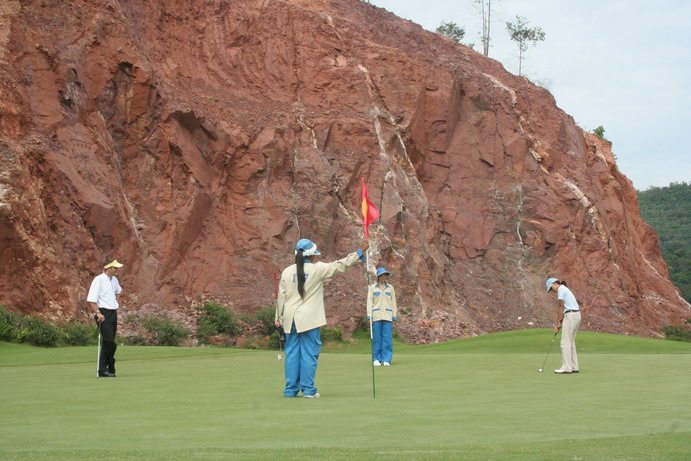 We all like to boast that we have played the most specular golf course in Thailand. Well if you include Phuket in your Thailand Golf Holiday, I suggest you check out Red Mountain Golf Club. You will not be disappointed.
Launched without too much fanfare in late 2008, Red Mountain has become the new kid on the block in Phuket, and has displayed Blue Canyon as Phuket's most popular golf course among Thailand golf holidaymakers.
The brainchild of Mr K Banterng Tantivit, who is the chairman of the board, Red Mountain is owned by the same company that owns the famous MBK shopping centre in Bangkok. They also own Loch Palm in Phuket and Riverdale Golf Club in Bangkok.
MBK certainly have invested wisely, and course designer John Morrow has created a spectacular world-class golf course in the heart of Phuket's former tin mining area. From 6,900 yards on the black tees to a manageable 5,203 off the red tees, the course is not that long, but every hole has its own theme with obstacles around each corner.


For example, the 1st hole, a short par-4 features red rocks on the right side of the fairway and the same boulders around the green. This gets you into the mood of what is ahead. The 2nd hole is a real test; an uphill par 5 over water to right-bending dogleg and green perched behind more rocks. Hole 8 is a par-4 off an elevated tee, with a lake to avoid on the right. Great if you can make it to the landing area on the left, otherwise it is a wet bogey or more for sure.
These and the other holes are all fine, however it is the last three holes that really take your breath away.
Hole 16 is the highest hole on the course, and it even has its own viewing terrace to see across the whole valley.  The 17th par-3 signature hole is the most spectacular. The reason is, it has been literally been created out of a 60 meter deep old mine shaft. So you are literally teeing off high over the green, almost like shooting down at a little dart board below. In reality, the hole is easily reached with a wedge or a 9 iron. Take your camera for this one, pure show biz!!!
The final hole is a fabulous downhill par-5, playing back to the clubhouse. The 559 yard hole is the longest on the course and is a great finishing hole to what was a great round of spectacular and fun golf in Phuket. Enjoy!
This post has already been read 11 times!