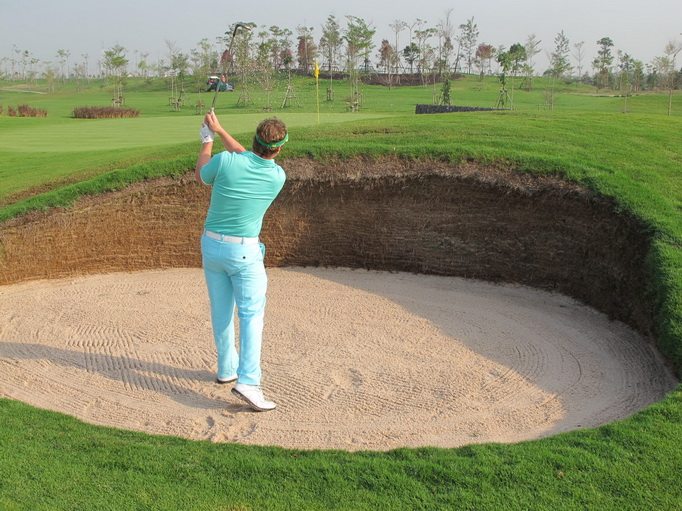 With over 280 golf courses across Thailand, the Kingdom is already spoilt for choice, so it is a very pleasant surprise, when a new club opens that really does have something different to offer.
The Royal Gems Golf City located just 35 minutes from the centre of Bangkok, has just finished the first phase of the proposed largest golf complex in Thailand. Known as the Dream Arena, it is the first replica golf course in Asia.
Designed by  Ron Garl who was also responsible for Alpine Golf in Bangkok and Alpine Chiang Mai, the Royal Gems City course combines nine of the best holes in golf with the back nine from Augusta National, home of the Masters.
Holes one to nine cover famous holes in America and in Great Britain including the well-known Church Pew bunkers from the 3rd hole at Oakmont, 6th hole from Bay Hill Orlando, the island green from the 17th at TPC Sawgrass, the Doral Blue Monster, the Postage Stamp at Royal Troon, the Road Hole from St Andrews in Scotland,  the 15th from Bethpage Black in New York, the famous par 3 from Winged Foot in the States, and the 10th hole from the Belfry in England, home of the 1985 Ryder Cup.
If you thought that was an experience, then get ready for a chance to play with some of the great Augusta holes on the Dream Arena's back nine. Literally going in the same order as Augusta's well known holes, you can experience all the thrills of what it might be like playing in the Masters.
The crew at Royal Gems Golf City even attempted to plant a lot of the flora similar to the real holes, and have selected the wonderful colours you see around the course in Augusta. Apparently though, as they do not have many pine needles in the area, they have made do with coconut husks. Typical Thai ingenuity!
The 11th, 12th and 13th known as Amen Corner is all there, and there are chances for birdies on 13-17th. But beware of the 18th which is a monster par 459 yards from the back tees that pays to an elevated green and will be a tough one to finish.
Thailand is well known as the land of Smiles. Well I am sure you will be quietly smiling when you have completed a round at the Dream Arena of Royal Gems Golf City.
This post has already been read 18 times!