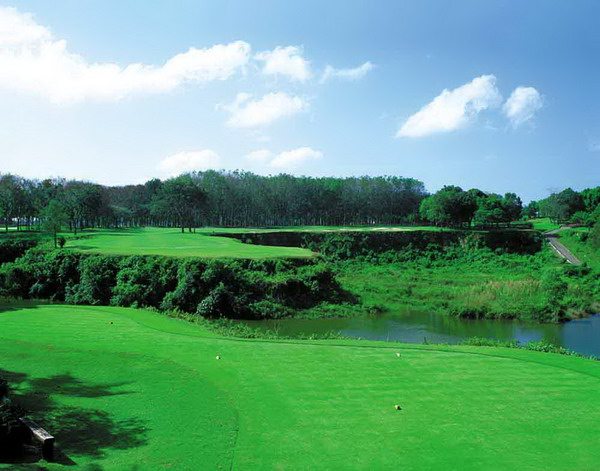 With so much great golf in Thailand, this is a hard one, but my personal favorite would have to be the 13th at Blue Canyon Country Club, Canyon Course in Phuket. The tee shot is over a massive canyon, which doglegs sharp right (see photo).
This is a perfect risk-reward hole where all players can choose how much they want to chew off. 390 yards from the back tees, the longest hitters may go for the green, and from the forward tees, most players will choose to cut some portion of the daunting canyon below off. As you look from the tee there isn't much fairway to be seen, and no way to pretend that the daunting canyon below doesn't exist
.
What I like also about the hole is it gives you options. Better players and longer hitters can have a go and turn this hole into a drive and chip, or putt (read next paragraph below), but hit a bad shot and you will be penalized.
If you were around in 1998, or have seen the video in the rooms at the Blue canyon golfers lodge, you could witness Tiger Wood's amazing tee shot in the last round of the Johhnie Walker PGA tournament. It was on the 13th where he not only flew the entire canyon, but also the large stand of pine trees guarding the front of the green. This was one of the shots that helped him recover from a final round 9 shot deficit and beat Ernie Els in a sudden death playoff, one of the best finishes in golf ever!
For the high handicapper, you can take the long route, avoiding most of the canyon, but again, hit a bad shot and you will be adding one to your scorecard before you've hit your next shot. The green is long length ways and slopes from back to front, not really designed for a long iron, and getting above the hole has caused many a player to three putt. I have no idea how many golf balls the canyon swallows up everyday, but it's got to be a major income earner for the golf ball divers who risk their lives retrieving them.
When you stand on the tee the first time and you're with a group of good mates, it's time to lay the bets down, usually bets going on who's going into the canyon. The longest hitter will be goaded into taking off as much as the dogleg as he can and only the brave will dare to do so.
This post has already been read 14 times!