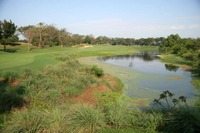 Golf in Bangkok is about the most varied in the world, with over 72 courses to choose from. I've golfed at most of the golf courses in Bangkok but a few of them for not quite a while. As with everyones favorite's in life, this account is my personal best of, and you are free to disagree with my most preferred hole, which I'm sure you will!
So here we go, my favorite Par 4 in Bangkok is the 2nd at Bangsai Country Club in Ayutthaya. Except for the sometimes wet conditions, this hole is an excellent risk-reward hole for all players. The photo at left exemplifies exactly what I am talking about, showing a fantastic tee box, requiring an over water drive to a narrow fairway and green.
What I especially like is it gives golfers of all abilities several options from the tee. The green can be reached from all sets of tees by longer hitters, although it does play uphill and only the longest of long hitters can get it on from the back tees.
From the white tees, it still requires a precise blow of nearly 300 yards to a narrow green guarded by a bunker left and water right. The fairway narrows near the green and if you miss it right and happen to avoid the water you will be faced with a very difficult shot to a blind green. Conservative players can lay up with a long or even middle iron but the good thing about this hole is it's reachable, but requires almost a perfect shot to get it on the green.
The bunker left of the green is not the place to be as the green slopes severely away and getting it close requires you to hit out just out of the bunker, which is a risk most players won't want to take. There is some margin for error if you are going for the green, but if you miss it just a few yards either side you are faced with a very difficult up and down.
Water guards the entire right side of the hole, which eats up many peoples balls' who have tried to hit it too hard and left the club face open, a slight fade will surely end up wet! . Even if you lay up from the tee, while you will most likely have no more than 100 yards to the green, it's sloping from back to front, so controlling spin is an issue, and the green is narrow so it's a visually difficult shot, even from a short yardage. You can just as easy make birdie as bogey, or worse.
As this post describes, there are a number of ways to play the hole, which makes it one of my favorite par 4's anywhere in Thailand, not just Bangkok. Also, this course is used as the home base for the Bangkok Wanderers Golf Club, one of the largest local Bangkok golf societies. So if any of you are in town for a long stay and would like to get out early one Sunday and play, feel free to let me contact the Wanderers directly or if you prefer to play on your won just drop me a line at my Thailand golf vacation company and I will get you the information.
This post has already been read 12 times!