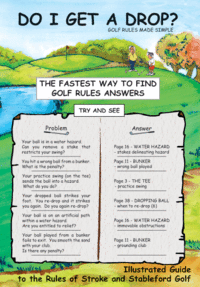 With Christmas just around the corner I thought I would liven up this Thailand golf travel blog with a small contest along with a special Thailand Golf Christmas prize.
Regarding the rules of golf in Thailand, the fact is none of us knows all the Rules, just most of them. So how is your knowledge?
Answer 'True' or 'False' to the following five questions, and send me your answers marking the email subject "Thailand Golf Rules Contest".
The names of all those submitting all-correct answers before Christmas will be put into a draw. The first two names out of the hat will both win a free golf Christmas gift from Thailand.
So here goes.
True or False
1. If a ball spins back into its pitch mark, it is considered embedded in the pitch mark.
2. If a ball behaves erratically in flight, the player is not allowed to substitute another ball before playing his next stroke.
3. If a player walks on his line of putt, he incurs a penalty regardless of the circumstances.
4. A player may have a ball lifted if it interferes either physically or mentally with his play.
5. A ball is in play when replaced, whether or not the object used to mark its position has been removed.
Play fast, swing slow. Merry Christmas and a par-ticularly Happy Golfing New Year from Thailand!
This post has already been read 10 times!