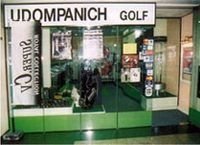 Golf shopping has gotten better and better in Bangkok with the opening of Siam Paragon, and upgrades and improvements to most of the existing malls such as Central Chidlom, Emporium, Siam Center and Siam Discovery Center. Golf equipment is readily available at most of these malls but you will most likely be paying full or near retail price. For the widest selection and cheapest prices, locals and tourists go to Thaniya Plaza, which can be reached via the BTS Skytrain and getting off Saladaeng (Silom)
Station. There is a walkway through from the BTS station.
As mentioned in a previous post, Thaniya Plaza consists of 4 levels of no less than 50 golf shops. You will find almost every brand available. Golf clubs are generally more expensive than in the US, but golf accessories, especially gloves, are cheaper. You can bargain on the price a little, but paying cash will certainly get you the lowest price.
Most are small independent run shops, such as the one shown in the photo insert above, but the major brands also have their main importer store on site. On the ground floor is GM Golf, carrying Titleist,. Walk past this and you will see the Taylor Made shop. Pan West, the Callaway golf importer, is on the 2nd Floor. Many of the smaller shops carry multiple brands. The authorized Titleist shop is on the ground floor and the staff in there are very helpful..
You could spend half a day in Thaniya easily, and if you're looking for lunch, there is an excellent Japanese Barbecue on the 2nd Floor called Rengaya. I usually stop in for a quick bite between my golf store hopping!
Many of the shops in Thaniya Plaza also carry a good selection of used clubs, although the good ones tend to be near the price of new clubs, which is somewhat disappointing. I've never personally compared prices in Thaniya at different shops, but you shouldn't find too much of a price discrepancy.
There are some excellent bargains to be found, you've just got to be patient enough to shop around and be prepared to spend a little time in there. It's relatively easy to get yourself around, and nowhere near as confusing as somewhere like Siam Paragon. If you're going by taxi, most taxi drivers know Thaniya – pronounce it Tun-e-ya (Tun as in Tunnel, E as in short E, Ya as in Gotch-ya!).
Good luck shopping and let us know if you find any golf deals by posting a comment or if you prefer just send me an email at my Thailand golf vacation company and I will take care of all the posting chores.
This post has already been read 71 times!