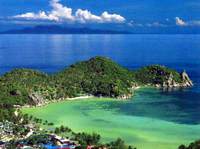 As an expatriate living and working in Thailand, I cannot think of many better places to come and play golf.
I have been fortunate to play golf all over the world including the most popular golf tourist destinations, such as the United States, Scotland, Spain, Caribbean, and Mexico. I have also played in several other Asian countries, like China, Hong Kong, Malaysia, Indonesia, Japan, and Australia, but still find Thailand a pretty difficult experience to beat.
Over the next few days I will explain my 10 best reasons why I think Thailand is the best place in the world for a golf holiday. i would love to get some feedback and opinions, both supportive and contrasting.
Here are the first 3 reasons, in no particular order, why I believe that Thailand is the greatest place on earth for a golf holiday:
1. Value for money. For any visiting tourist, Thailand provides great value for money. From the wide choice of hotel accommodation and golf, to shopping in the local markets or high class department stores, to the wide array of eating choices and nightlife, it is remarkably cheap for the quality provided. The quality of service and attention you receive is also of excellent standard, and together with the wonderful hospitality, makes Thailand the number one choice for many tourists.
2. The weather. In the cool season, from November to February, Thailand has a fantastic climate. Light breezes, constant sunshine, great conditions for a golfing holiday. Even in the summer months when it gets a bit warmer I still cannot think of anywhere better to be.
3. The courses. With many courses being developed by leading professionals such as Jack Nicklaus, Nick Faldo and Greg Norman, you will not be disappointed. In addition, a number of courses have been designed by famous course architects such as Pete Dye and Robert Trent Jones together with leading Japanese designers. There are also now over 200 courses located throughout the country, with a number of very high quality new courses opening every year, ensuring huge choice for the visiting golfer.
This post has already been read 11 times!