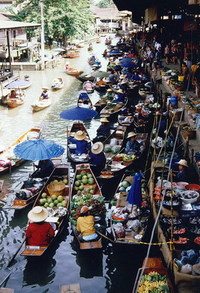 Here are the next 4 great reasons to choose Thailand as your most favored golf holiday destination.
4. The locations. Thailand is a beautiful country and offers a number of totally different destinations to play golf. From the bustling capital of Bangkok, to the beautiful mountainous countryside of Chiang Mai and Chiang Rai. From the stunning beaches in Phuket and Koh Samui, to the bright lights and amazing nightlife of Pattaya. From the quieter seaside town of Hua Hin, to the waterfalls and stunning scenery of Khao Yai, Thailand has a location for everyone.
5. The people. Without doubt I find the Thai people to be the friendliest I have ever found throughout the world. Always with a smile on their face (it is not called the 'land of smiles' for nothing) I find them very humble and always extremely welcoming towards visiting tourists. You will be stunned by their hospitality and how much they are prepared to do for you.
6. The caddies. A unique and truly memorable part of playing golf in Thailand. Predominantly made up of females, they provide a fantastic service and must be the best value for money anywhere. Greeting you upon arrival at the clubhouse, they will take care of everything before you tee off. Guiding you round the course with a constant smile on their face, they will give you distances to the green, mark your ball and give you the lines of your putts, keep you cool when you get a bit hot, and always provide great fun and enjoyment.
7.The accommodations. No matter where you are staying in Thailand, you can find accommodation to meet your budget. From stunning 5 star hotels to small Thai style bungalows, Thailand is truly set up to cater for the tourist market. I never cease to be amazed by the quality of accommodation throughout Thailand.
Tomorrow will see the final portion of this post. Please do be sure to share your own reasons to come to Thailand for golf.
This post has already been read 13 times!