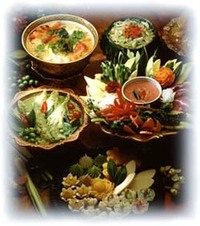 Here are the last 3 of my best reasons to take a golf holiday in Thailand.
8. The food. From local Thai dishes to those with other Asian influences it is truly amazing. There is such a variety in choice with the local cuisine I find I am constantly changing my favourite dishes! In addition, there is a huge selection of international cuisine for those who prefer a bit of something closer to home.
9. The culture & customs. Thailand is a unique country with its own identity unrivalled in any other part of Asia. As a predominantly Buddhist country, it is steeped in amazing culture that you will unlikely find anywhere. A very polite and respectful country, you will be amazed how different things can be. Trust me, this alone will leave you truly amazed.
10. The choices outside golf. There is so much to do outside golf you will be spoiled for choice. From visiting the amazing temples and shrines, to the local night markets and street stalls selling everything imaginable, Thailand is truly a tourist magnet. Stunning beaches, beautiful waterfalls and mountains, international style shopping malls, world-class Spa's, boat trips to idyllic islands, elephant trekking, and the list is endless. I can assure you that there is never a time that you will find you are not sure what to do.
The above are only 10 of the reasons I have recommended to anyone considering visiting Thailand. The list is endless and I could go on but that will spoil all the additional surprise you will have when visiting this amazing country.
Please feel free to share your best reasons why you think, or don't, that Thailand is the best golf destination on earth!
Have a great weekend!
This post has already been read 10 times!