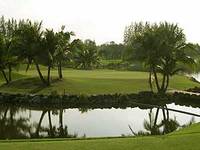 Have you ever heard of this course? Have you ever played it? Well as the name implies it is a hilly golf course near Bangkok with very pleasing hole to hole elevation changes. However, in addition to the "alpine" setting, what sets this course apart from others in the area is the immaculate conditions and maintenance. Alpine is in such good condition that is ranks right up there with the Thai County Club as one of the 2 best courses in Bangkok.
I had the opportunity to play at Alpine last weekend and the more I play the course the better I like it. The greens are rolling around 9.5 which is unbelievable considering it is the "rainy" season, and all of the ongoing maintenance is limited to one or to tee boxes. In these cases the blue tees are being used in place of the whites, or visa versa. Also, with all the elevation changes from hole to hole, one has to think about not only the landing spot for each hit, but also which way the ball will roll and where it will come to rest.
There certainly are easier ways to play many of the holes, like lying up in front of the #4 and #11 island greens. However, if you want to shoot good you will need to play aggressive, as good shots will be rewarded by excellent birdie possibilities, if not easy pars.
If you have not played Alpine, you owe it to yourself to give it a try. Who would turn down the opportunity to play at the course where Tiger Woods won the 2000 Johnny Walker Classic.
Golfasian has secured a limited number of special tee times, so if you are interested please send me a private inquiry at mark@golfasian.com. The course does not come cheap, but neither does greatness.
This post has already been read 10 times!