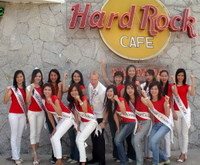 Nick, a good Thailand golf buddy of mine who had recently returned from a long weekend Pattaya golf trip with six of his best friends was in a state of shock when he saw his Thai wife looking through his credit card bills. Being a curious and non-trusting type, his wife asked him to explain a 1,500 baht charge marked "joiner" from the Hard Rock Hotel in Pattaya (see photo at left).
Fortunately my friend was quite fast on his feet, maybe due to other past and similar occurrences, and explained that he and his friends had engaged in some play boxing which accidentally damaged the hotel room where they were staying. Upon checking out and learning of the room damage, the hotel management demanded the big foreigner pay the repair bill. The room needed a new joiner to "fix the door" my fiend told his now slightly confused Thai wife, who, by all accounts, accepted the explanation, albeit reluctantly.
I guess the moral of the story, other than to avoid in room boxing, is to follow the new Las Vegas adage of "What happens in Pattaya, stay in Pattaya", bring some extra cash with you or use an ATM's wherever possible. Not only will this avoid any possibility of credit card fraud while on a golf holiday in Thailand, but it will limit the number of documents you have to keep track of after you return from your memorable Thailand golf vacation.
If you need any more information about "which hotels use joiners for the doors" and which ones are "joiner free", please contact me off line by email at my Thailand golf vacation company. On the other hand if all this is irrelevant, you might try playing golf in Thailand away from the popular tourist areas, such as River Kwai or Khao Yai where the golf courses are great and the hotels all constructed with concrete!
This post has already been read 12 times!