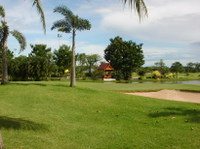 Golf in Thailand can be different from golf in other parts of the world and many of the unique attributes of Thailand golf have been covered in my previous posts. One area that is often overlooked or assumed to be the same is what to bring with you to the golf course.
Five of the essential items to bring to the golf course in Thailand (aside from your golf clubs) include:
1. Light, loose fitting, cotton garments, including cotton socks. Many golfers prefer to wear tailored shorts (with black socks!) rather than long pants as this affords the best balance of comfort and fashion. Whilst Thai golf courses tend to be more relaxed than those in other parts of the world, the usual standards of dress still apply. Pretty much anything you feel comfortable in will be "allowed" ,the only exceptions being cut-off jeans and t-shirts which are frowned upon.
2. Shoes should be comfortable and most golf courses in Thailand insist on 'soft' spikes. Check with your Thailand golf travel agent about this.
3. The sun, even in the rainy season can be deceptively strong. Use a good sunscreen, wear a hat to limit your exposure time and / or carry an umbrella to ward off both sun and rain, and bring a dry towel to wipe away any perspiration from your hands and face.
4. It is a good idea to spray yourself with an anti-mosquito preparation (Malaria poses no threat on Thailand's golf courses, but if you intend traveling outside the main centers make sure you are adequately protected).
5. A positive attitude, although strictly speaking not a material possession, is most the important thing to bring along with you to the Thailand golf course. Remembering that you are on vacation and here to have fun will ensure that your golf holiday in Thailand will be one of, if the most, memorable vacation of your lifetime!
If you have any additional suggestions on the essentials to bring with you while golfing in Thailand, please do post a comment here or drop me an email at my Thailand golf holiday company.
This post has already been read 13 times!