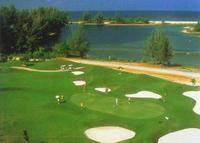 Golf in Phuket will be the focus of my next few posts. Phuket has long been the paradise island that lovers of sun, sand and sea have come to love. Nowadays, Phuket also has become the tropical island that golfers dream about. Fifteen years ago, golf was scarcely known on Phuket Island. Now, it boasts no less than nine excellent courses, including Thai Mung, on the mainland just across the Sara sin Bridge to the island and the first course I will discuss.
Actually, Thai Mung Beach Golf and Marina is one of my own personal favorite courses. It is well worth the drive there, about forty minutes beyond the airport as it is one of the few beach-side championship standard courses in Thailand, running as it does along the Andaman Sea coast. It occupies an opulent site with mountains and low, forested hills on one side, and sea and sand on the other.
The layout is peppered with difficulties and includes many tough holes. It sports all of the features associated with its renowned designers, Dye Designs from the USA, including many bunkers with railway sleepers. The lush fairways wind along and around ponds, lagoons and creeks. There are hills, hollows, large angular mounds and many other hazards to cope with. No less than 12 holes feature water carries.
The final three holes represent as spectacular a finish as any course in the world, particularly if it is played as the sun sets over the Andaman Sea. The 16th, a 523 yard, dog leg par 5 with a lake edging right up to the green; the 17th, a 181 yard par 3 dubbed "The Lady" (possibly because of its capricious nature!); and the 18th, an awesome 468 yard par 4, running alongside the deserted white sandy beach.
From the back tees, Thai Muang provides a genuinely testing game for the pro. Happily, when played from further forward, it also presents the casual golfer with a fair and not too intimidating challenge.
Whether you have brought this great course to its knees, or whether it has left you in despair, there can be few things better than enjoying great Thai food and sipping a cold beer on the terrace of the splendid club house, overlooking the sea, served by pretty, mini-skirted waitresses, arguably the most attractive in Thailand!
While not included in most tour operator's Phuket golf packages (they make less money than the more renown courses and they do not like to tie up their transportation) make sure to request that this course be added to your holiday play list, you will not be disappointed and it just well may be the most memorable round of your Phuket golf holiday!
This post has already been read 12 times!