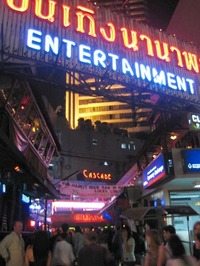 Here is the second and final part of my post. Hope you enjoy and please do comment on anything shown or mentioned.
Whether you want to play pool, sit and joke with the girls in the many beer bars, enjoy the numerous go- go bars and shows on offer, or sample a special type of massage, then it is all readily and openly available.
On many occasions I have witnessed both first time visitors, and many people who know Thailand well, caught up in the amazing atmosphere which certainly adds to an additional handicap whilst playing golf the next day. Golf in Thailand is difficult enough with the challenging courses and hot climate, but add a hangover and only a few hours sleep – well I don't need to say anymore.
That is not to say I do not recommend it. Heck, I came here myself as a single golfer for almost 15 years until meeting and marrying my beautiful Thai wife 4 years ago and even now once in a while I can be persuaded to join some friends for a night out on the town. I appreciate that the main purpose many people come is to combine the nightlife and golf, and I am just trying to make the first time visitor more aware of what to expect.
With regards to the girls in Thailand, they are without doubt very, very beautiful, very available, and very many of them! It is no wonder that in the late evening the next day's golf becomes a secondary thought.
Much has been written about the Thai girl and the entertainment scene in Thailand and I am not going to pass judgment on it. Rather I just accept it is part of Thailand and Thai society. Certainly enjoy yourself whilst in Thailand, and make the most of what is available. Trust me, it is an experience you will never forget, and for the first time visitor, normally results in the immediate planning of a further holiday upon their return home.
This post has already been read 12 times!