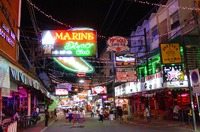 For anyone who has not visited Thailand previously, then the simple answer to this question is a definite yes! For those that are familiar with Thailand then you will know exactly what I am talking about.
There is no hiding the fact that Thailand is popular with many visiting tourists, primarily male, for the unbelievable nightlife and availability of beautiful Thai girls for company. This is something that is unique to Thailand, and whilst variations occur in other Asian destinations, you will certainly not find anything like it outside Thailand.
It is not my intention to hide anything, and the purpose of our site is to provide as much independent, honest, information to assist potential visitors plan there holiday. For sure, this aspect of Thailand is not enjoyed by many people, and is not really appropriate for couples or families with children, but you must accept it is part of the Thai culture. For those people wishing to avoid this aspect of Thailand, then there are many beautiful resorts and locations for golf well away from this.
On Friday, I will follow up and discuss in more detail about the various nighttime locations, options as well as some good ways to avoid the crowds. Stay tuned!
This post has already been read 15 times!