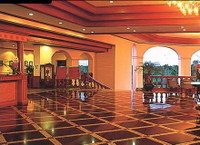 Bush, Regan, Ford, and Carter: they all played the game, but I bet they never were on the links or entered the club house at Bangkok's President's Country Club.
I on the other hand had the good fortune to play at this semi-private course last Friday. Upon driving up to the front gates I was greeted by a horde of smiling caddies dressed in pink caddie uniforms. After being assigned (actually I selected) an able and most cheerful caddie, I entered the cavernous club house, its size and layout fit for a presidential party's reception for sure. Look at the picture at left taken inside the club house and I think you will get the point!
The course is a 36 hole, Robert Trent Jones Jr. designed layout in a large park like setting. The South and West courses boast some of the fastest greens around, although the condition, to me, looked a little bare. Also, the tee boxes were uneven on many of the holes, making a potentially great design, very disappointing.
The one good point about the course is its location. Around 80 minutes from Bangkok city center, it is a bit too far for the Bangkok working person to drive to when leaving the office early. Therefore, tee times are always easy to book and it will only take a little over 4 hours to get in a full 18 holes. Also, due to the large land area, the fairways are all separated form each other, which give you the feeling of being all alone on the course and in a wonderful tranquil setting. Finally, the course is challenging enough for low handicappers who can try direct lines for the doglegs and shoot over the many bunkers strategically placed in front of the greens. At the same time, due to the wide fairways and lack of elevation changes, the course is also a good choice for beginners who will just like to enjoy the settings and have a relaxed round of golf.
I normally do not include President Country Club in my list of recommended courses, because there are so many other great choices in Bangkok, However, for anyone wanting to try, please do let me know and I will include it in any golf itinerary.
This post has already been read 11 times!